What an amazing year Basile has had with Point-7? It started off with a bang and went like that the whole year. Our PWA Youth Slalom World Champion is young, but already disturbing in the overall rankings of the super pros. Dividing his time between University and Professional Windsurfing, Basile has all the right cards to do only better each year! We are proud to have him on Point-7!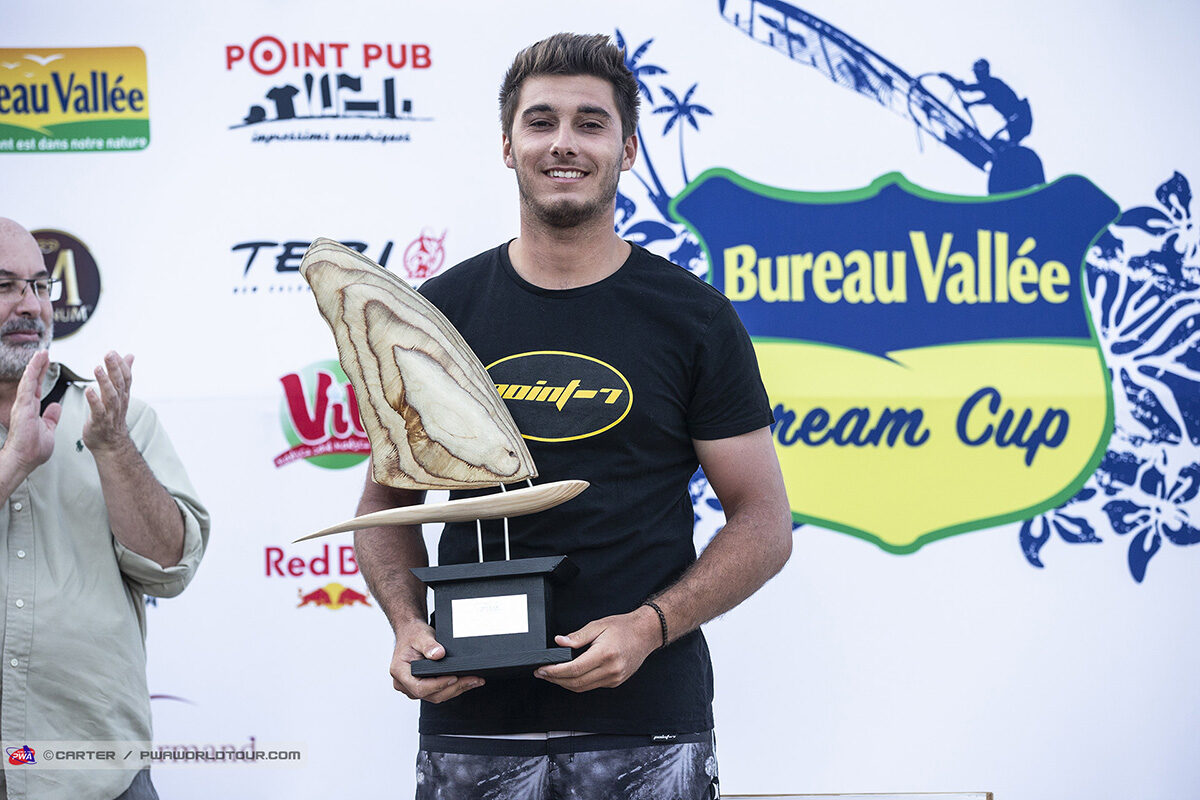 TWH: Having your best result in the PWA for the year at home must feel amazing. Can you tell us a little about the event?
BASILE: Yes, I'm super happy the way I ended this year, what a great event we had in Noumea. Top 10 after 11 races is solid and I made it on my home spot so it can't be better than that. We had different condition from 8.6 to 7.1, lot of races so the key was to stay focus and to not make mistakes. With 11 races I entered in 9 semi finals, made some winners finals and won my first runner up final.
TWH: 10th place brought you up into the top 16 of the overall rankings at 14th place. How important is this for next year?
BASILE: Finishing inside the top 16 overall is important for young rider like myself. It shows that the next generation is pushing, and the season will cost a bit less. In slalom on PWA the top 16 get « free accommodation » for the new season and to be honest that is a bit of saving money and less time to organize the accommodation.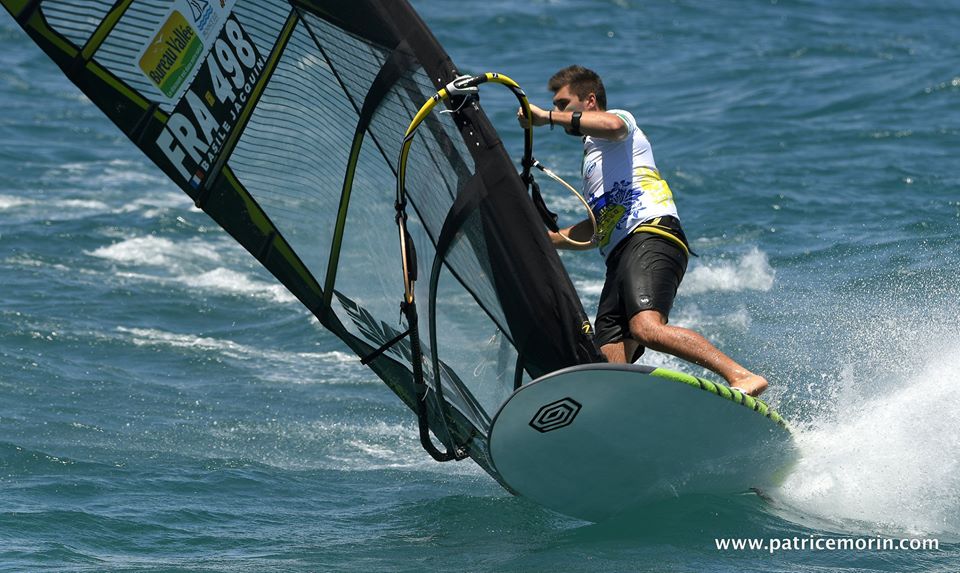 TWH: The crowning ceremony for 2019 was also held at home. You retained your Youth title. How does that feel?
BASILE: I won the PWA youth world title for the 3rd year in a row which is a good feeling. Especially this year that was my last year as a youth. To win it at home was special as my family and friends were there pushing me and helping me during this last event.
TWH: In IFCA you upped your game and you are the Slalom World Champion. Title number 2 for 2019. Does this make you want to train even harder?
BASILE: This IFCA in Sylt was a big success for me as I won it in front of good sailors and again, we had condition from 5.6 to 8.6. This year I'm IFCA slalom world champ, PWA youth world champ and top 15 PWA overall. It's my best season so far and for sure I'm hungry for more and I'll push for it !!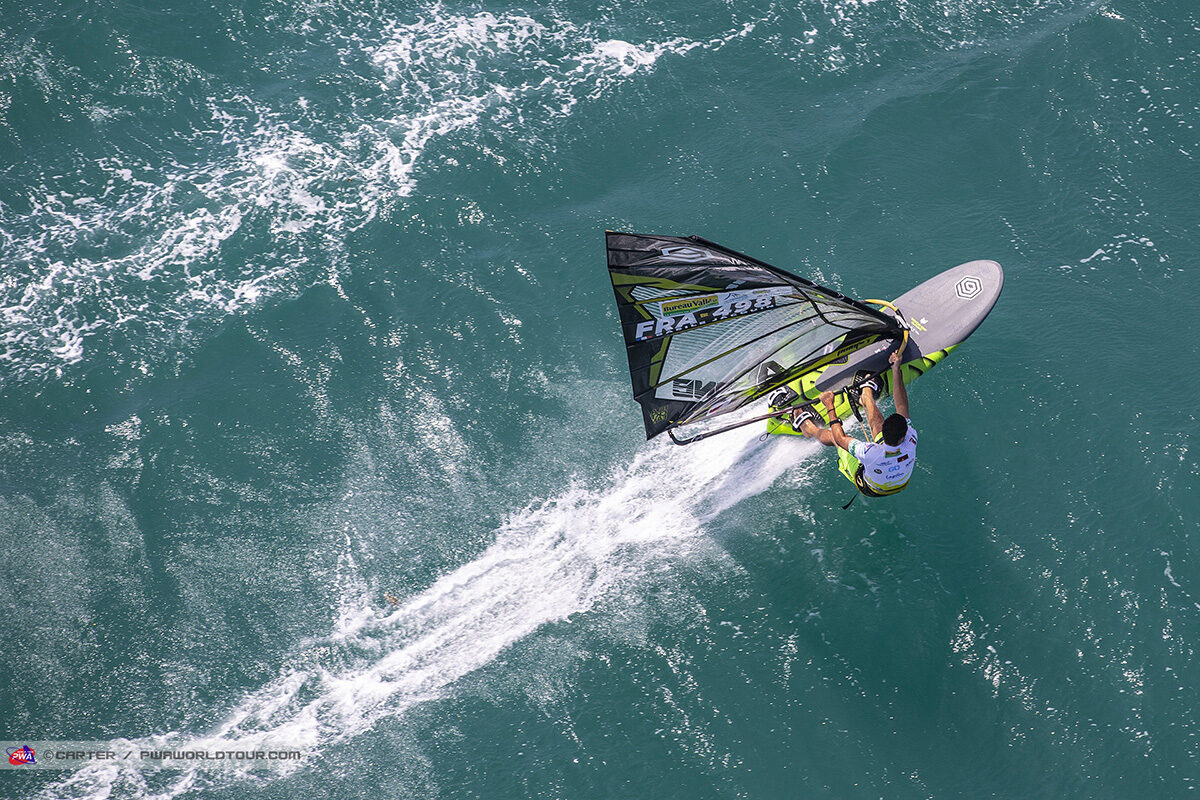 TWH: Andrea and Point-7 are always working on giving you that leading edge. You have your 2020 sails that you can now sail all the time. What are they like?
BASILE: I think it's time to say a massive « grazie » to Andrea and all the Point 7 team ! Since I started slalom, they always support me good, and since I'm on the tour they are supporting me good haha. In 2019 Andrea did some massive changes on the slalom sails (3 cam 7 battens) and all his work was on the right way ! For 2020 the sails will be having lot more acceleration which means also power in the light wind. This is what we have asked for and Andrea has been working on to make us happy. He knows how to windsurf and the fact that he designs the sails, and can take them himself to extreme, so he understands what we mean. Can't wait to race with those weapons !!
TWH: Point-7 now have 4 sails that can be classed in the race sector. AC-ONE, AC-K, AC-Z and AC-X, what are your feelings about this?
BASILE: AC-One which is the pure racing sail. The only one on the market with 3 cams and 7 battens. It only made the sail better not to have the 4th cam.
ACK is the 3 cams « Free race » sail but the performance is super close from the AC-one. If you use your GPS, you will see that your top speed is not far from the pure racing sail ! It's practically the same sail with less wide sleeve, and it makes it feel lighter.
AC-Z is the new sail from the collection, 2 cam, lighter and easier compare to racing sails but got big performance in speed. Super easy to jibe, good for slalom and foil, this could be the perfect sail for fighting with your friends in every king of condition. I spoke recently with Andrea, and it's becoming their best seller already. Is the only sail on the market with this clear racing character with a total friendly feeling.
AC-X is the no cam slalom sail, light and easy to use. If you are not persuaded about having a cam sail, have a look on the video Andrea did one or 2 years ago about top speed with racing sails, 3 cam and no cam sails. It's super close !! You can call all these 4 sails, A Class sails, you just chose then the model based on how friendly you want the sail to be or more aggressive.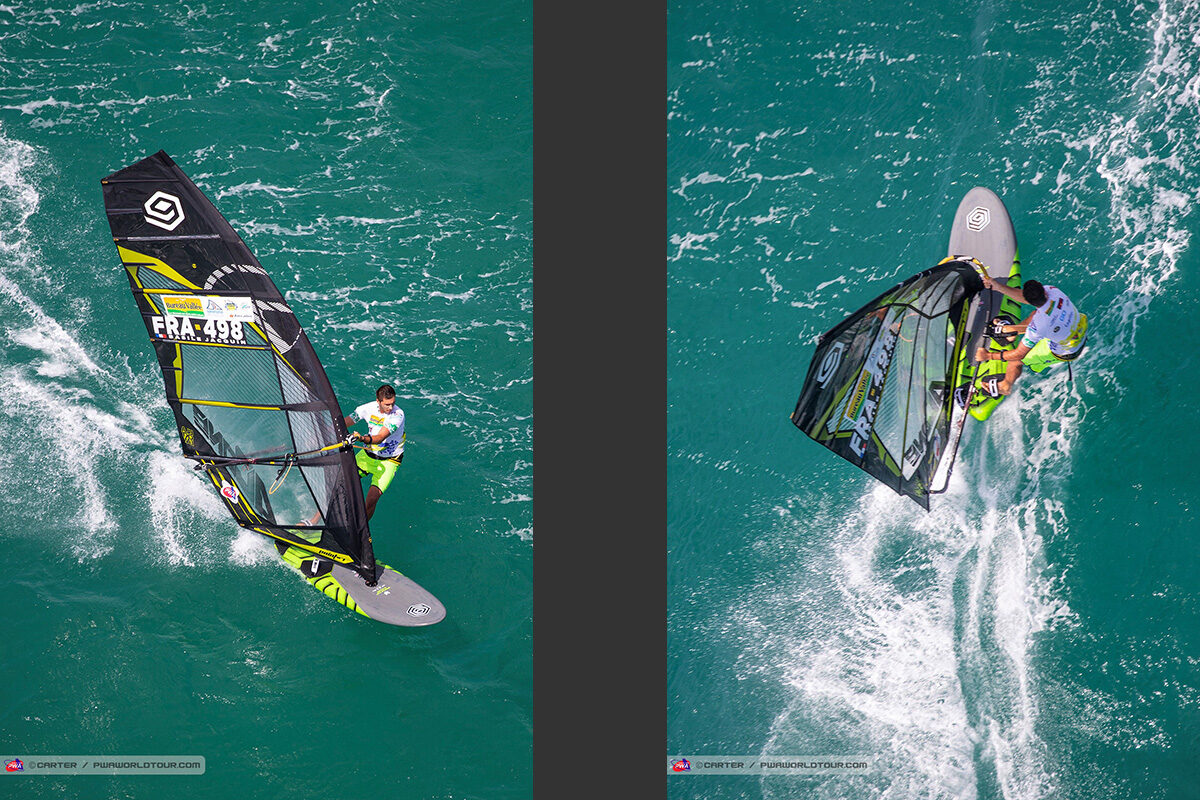 TWH: It is so hard to find out what the PWA will do for next year, so planning 2020 must be hard. Will you do more events outside of the PWA?
BASILE: For 2020 in slalom we will be allowed to use 4 boards and 7 sails, fin and foil will be mixed. So, you will have some races with foil and fin on the same course at the same time. To be honest I was not really in favour of this idea but it's how it goes, and you need to adapt… To simplify, in light wind we will go on a slalom race (classic downwind courses) with a foil and as soon as we feel faster with a fin, we go with it. So, 2020 is going to be an interested year, result could change a bit 😉 It's going to be the first year, all to experiment, surely things will change again to find the final right format.
TWH: What do you think about Foiling in Slalom, should it just be kept to Race?
BASILE: My opinion is that foiling is a massive tool to be able to race in lighter wind or in different places where it's not slalom « fin » condition. It's faster and smoother on lighter breeze, so let's see in 2020 until when foiling is faster than a normal fin. The question is if people in future will enjoy more slalom sailing in light wind, or all convert to foil in minimal conditions.
TWH: I know you also love Freestyle and Wave. Will you be doing more of it this winter with the new sails?
BASILE: Freestyle and wave are the disciplines I love doing for fun, I'm not at a level to compete on PWA and I'm not training enough to say that next year I'll do more free style-wave event. But the new sails are sick for 2020: SLASH is the world champion sail and the SALT is super radical ! So, for sure as soon as the condition are good, I'll be there haha. I think practice every discipline is benefit and I love windsurfing with every king of gear !
TWH: Thanks Basile, have an amazing winter and we will chat again once we know what is happening for 2020.
BASILE: Thanks, hope to see you soon Russel !