Would you have thought that Point-7 would not focus on Freestyle? After the monkey show and PWA podium results in the wave with Ricardo Campello, and the PWA Slalom World Championship title… …freestyle was a must for the Black Team!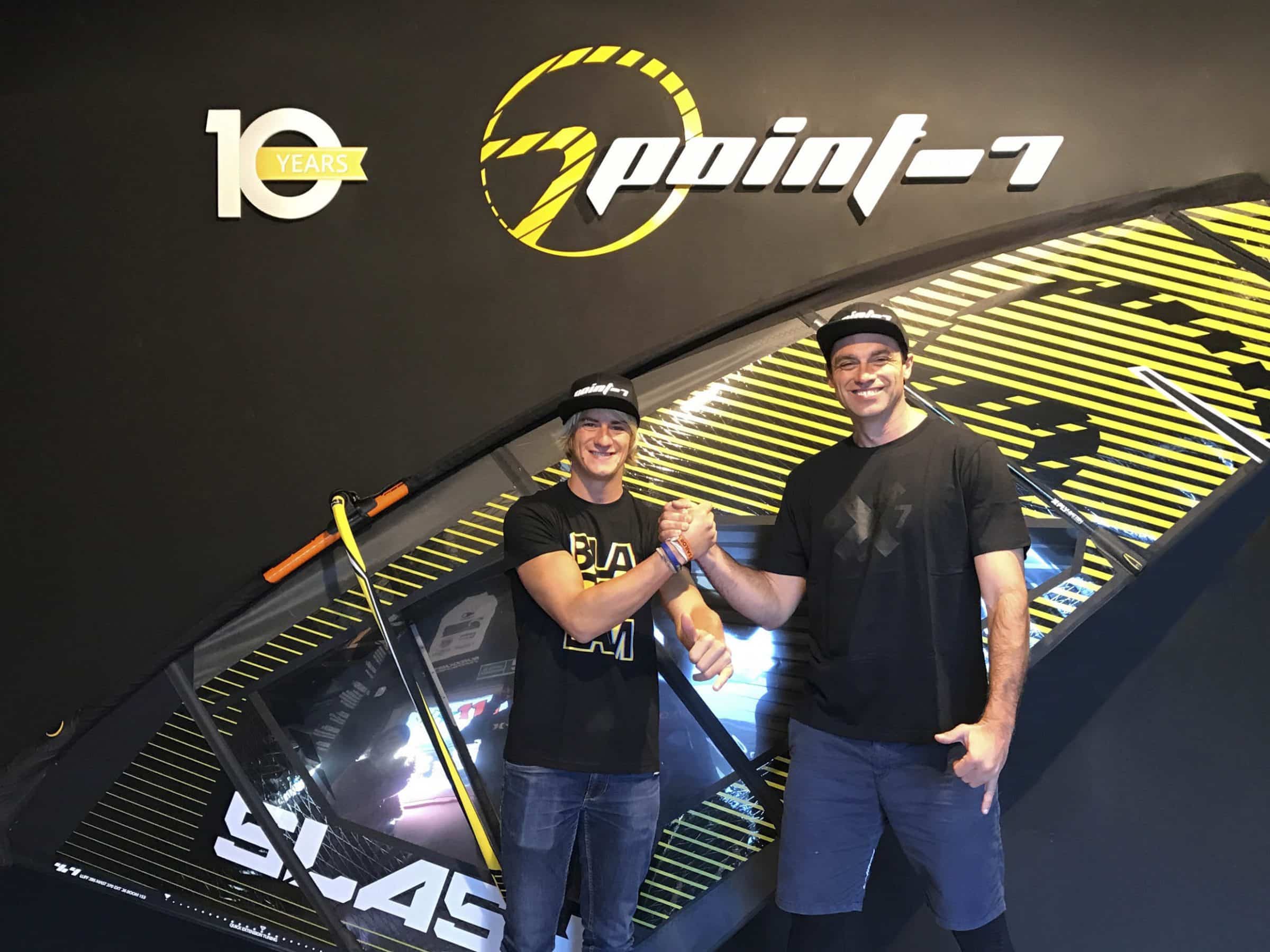 Yes, we have made ourselves a 2016 X'mas present to complete our mission for jumping into the freestyle zone. Working on the development of the new Slash Freestyle nonstop in the last years, we were now ready to welcome a top freestyler in our Point-7 Black Team.
Welcome B-16, Yentel Caers! Yentel has finished in third Place of the PWA Freestyle 2016, and had even won the single elimination in PWA Fuerteventura this year.
'I'm very honoured to have joined the Point-7 Black Team. They have been following my activity the whole season, and happy that we finally agreed to work together.  I visited the team to sign the contract and loved the feeling. I've seen how they are passionate for windsurfing, and this is great for me, as one of my targets is also to promote the sport. I've checked the sails and they have everything I need for competing at the top world events. I will be working directly with the Black Team on the development, and to bring the freestyle fans more freestyle on the Black Academy from Point-7.
Yentel Caers
I consider freestyle a very technical discipline. The gear is very specific, and the skills of the rider need to be very developed to be able to be so powerful and agile at top level. It's very challenging to develop a good freestyle sail to fit everyone needs and style. Like on a slalom sail, few millimetres, can make the sail very different and there is a lot to play around to develop it. We have been working a lot on our latest zero17 model, as we wanted to enter in the PWA Freestyle tour with a top level rider, and a top level product. Now we have both and also many young talented freestylers in our team. Super happy to have met Yentel this year. He is a fully passionate windsurfer who lives to windsurf everywhere it's best for him to improve. Very professional in his training and ready to work as such, to continue developing his equipment. I wish Yentel to enjoy his next season with us, our Black team, and success in his competitions!
Andrea Cucchi
Welcome Yentel, from the whole Point-7 world!