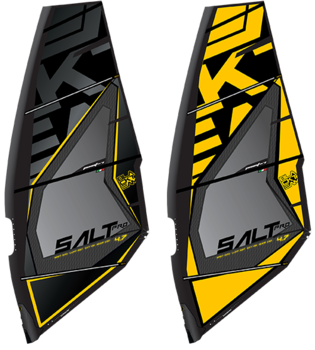 | | | | | | | | | | | | | | | | | | | | | | |
| --- | --- | --- | --- | --- | --- | --- | --- | --- | --- | --- | --- | --- | --- | --- | --- | --- | --- | --- | --- | --- | --- |
|  Size |  Euros |  Luff |  Mast |  Extention |  Boom Trim |  Boom |  Kg (+-5) | Top | Battens | Clew |  rdm mast |  sdm mast |  Best Mast |  Ext Rdm 32 |  Ext Rdm  48 |  Ext Sdm |  Alu+ Boom |  Carbon+ Boom |  Best Boom | Harness lines | Vulcano |
| 3,3 | 549 | 351 | 340 | 12 | 138+-2 | 140 | 2,66 | vario | 4 | 2 ring | K87 K97 | no | K87 K97 | yes | yes | no | 140 | 140 | 140 | fixed | yes |
| 3,7 | 579 | 363 | 340 | 24 | 144+-2 | 146 | 2,76 | vario | 4 | 2 ring | K87 K97 | no | K87 K97 | yes | yes | no | 140 | 140 | 140 | fixed | yes |
| 4,0 | 589 | 372 | 370 | 2 | 148+-2 | 150 | 2,80 | Fixed | 4 | 2 ring | K87 K97 | no | K87 K97 | yes | yes | no | 140 | 140 150 | 140 | fixed | yes |
| 4,2 | 599 | 374 | 370 | 6 | 150+-2 | 152 | 2,85 | Fixed | 4 | 2 ring | K87 K97 | no | K87 K97 | yes | yes | no | 140 | 140 150 | 140 | fixed | yes |
| 4,5 | 599 | 381 | 370 | 12 | 152+-2 | 154 | 2,90 | Fixed | 4 | 2 ring | K87 K97 | no | K87 K97 | yes | yes | no | 140 | 140 150 | 140 | fixed | yes |
| 4,7 | 639 | 397 | 370 | 28 | 158+-2 | 160 | 2,95 | Fixed | 4 | 2 ring | K87 K97 | no | K87 K97 | yes | yes | no | 140 160 | 140 150 | 140 | fixed | yes |
| 5,0 | 649 | 401 | 400 | 4 | 158+-2 | 160 | 3,04 | Fixed | 4 | 2 ring | K87 K97 | no | K97 | yes | yes | no | 140 160 | 140 150 | 140 | fixed | yes |
| 5,3 | 659 | 412 | 400 | 14 | 164+-2 | 164 | 3,14 | Fixed | 4 | 2 ring | K87 K97 | no | K97 | yes | yes | no | 140 160 | 140 150 | 140 | fixed | yes |
| 5,6 | 679 | 425 | 400 | 26 | 174+-2 | 176 | 3,42 | Fixed | 4 | 2 ring | K87 K97 | no | K97 | yes | yes | no | 140 160 | 140 150 | 140 150 160 | fixed | yes |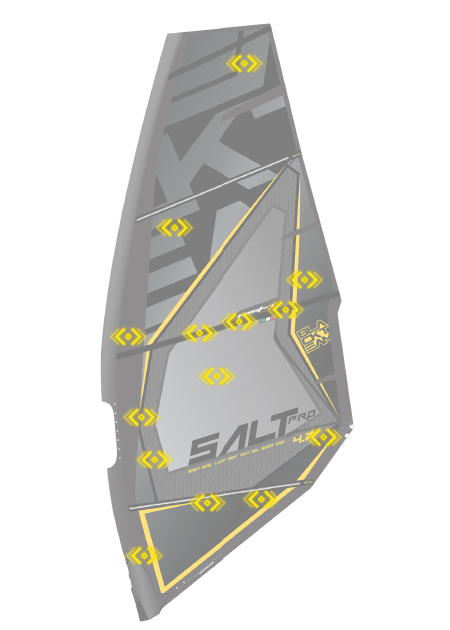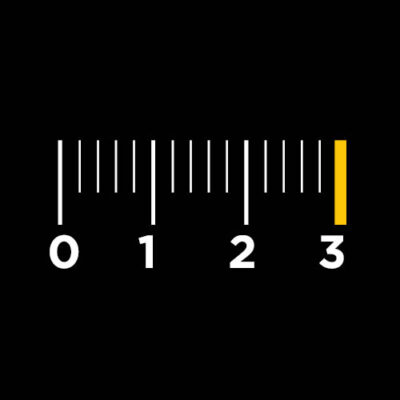 Possibility to play with 3cm downhaul for wave sailing on-shore or side-shore settings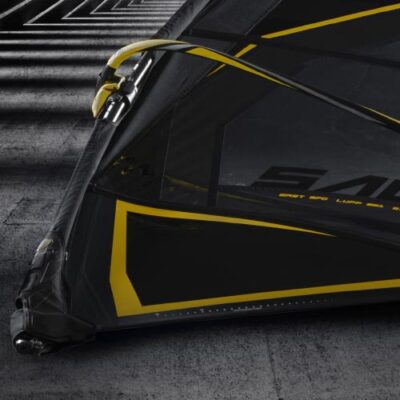 A medium cut foot to satisfy the need of the new moves, low enough to power up during a bottom turn.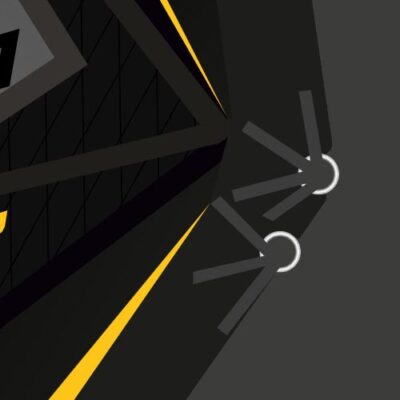 Lower ring setting for wave sailing. Higher ring to increase power and acceleration for bump and jumping.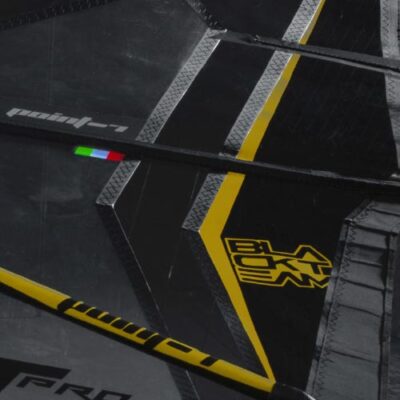 High skin tension and a tight leech. S/shaping on 3rd batten for extra speed to jump higher, and reactive maneuver orientated ride. maintaining a flat batten profile over the boom.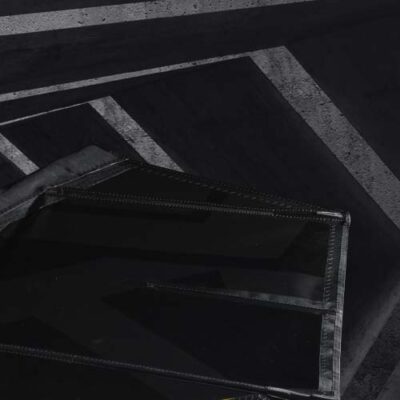 Upper leech remains relatively taut.The reduced head outline shape allows a fast rotation and light feeling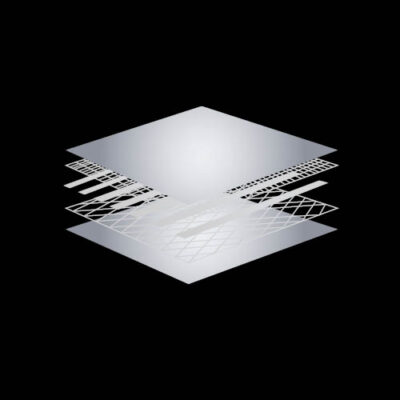 The Dacron panel stretches to increase power in light wind, absorb impacts from landings and hard conditions. Neutralizes during the wave sailing from its on-off nature.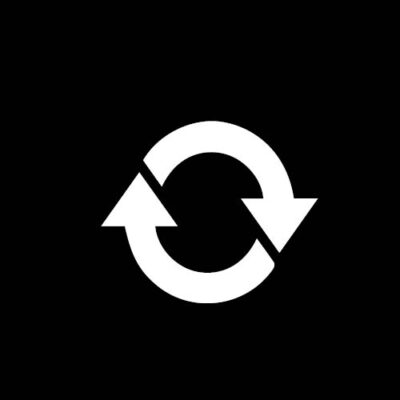 Plenty of useable drive through the bottom turn, whilst always remaining controllable. The two lower battens retain excellent rotation around the mast. Stability, drive, a quick tack rotation.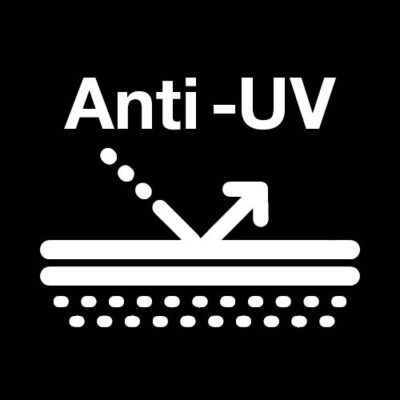 X-ply Anti UV- window only where it would not obstruct perfect vision.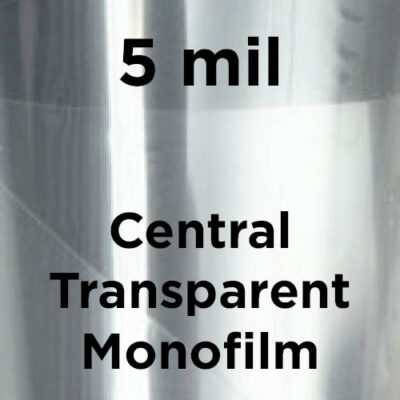 5mil central transparent monofilm visibility window.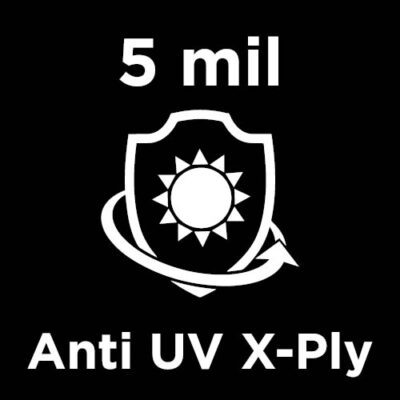 5mil Anti UV- X-ply base panel for protection from accidents.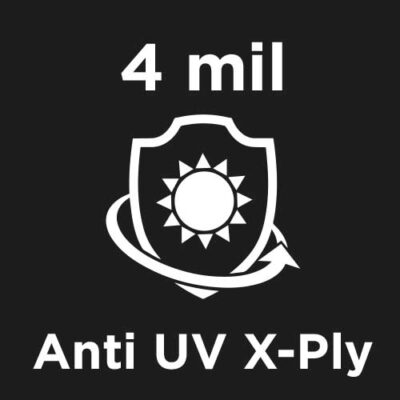 4mil Anti UV X-ply laminate for high reactivity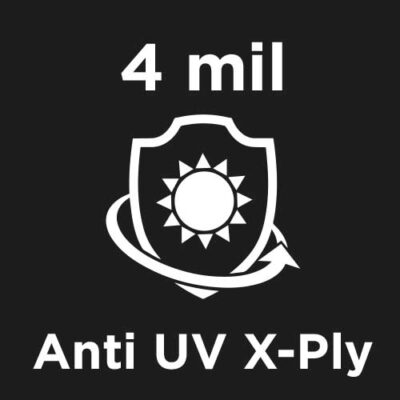 4mil Anti UV X-ply laminate for high reactivity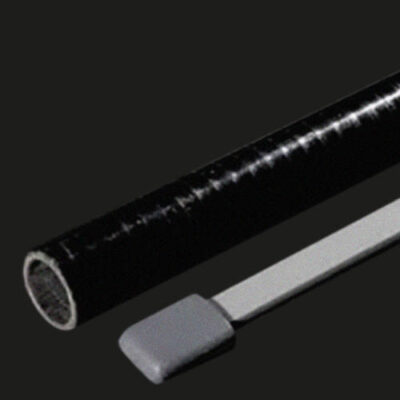 Battens: X-ply alternate batten pockets for lighter weight and reflex. Four-batten construction.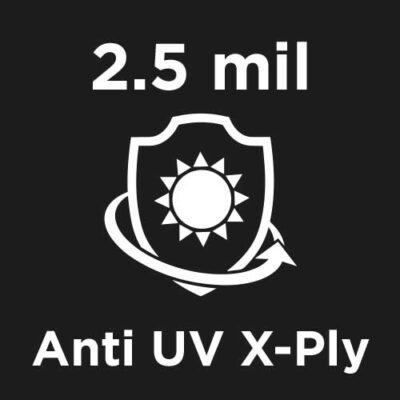 2.5 mil Anti UV X-ply laminate for light weight and forgiving in landings. (black version)
| | | | | |
| --- | --- | --- | --- | --- |
| Weight (kg) | 45-60 | 60-75 | 75-90 | 90-100+ |
| Wind (kts) | | | | |
| 6-11 (Foil wind) | 5.0 | 5.3 | 5.6 | 5.6 |
| Board Volume | 95 | 95 | 100 | 110 |
| ott-16 | 5.0 | 5.3 | 5.6 | 5.6 |
| Board Volume | 95 | 80 | 100 | 110 |
| 16 – 21 | 4.5 | 4.7 | 5.0 | 5.6 |
| Board Volume | 75 | 80 | 85 | 110 |
| 21 – 25 | 4.0 | 4.7 | 4.5 | 5.0 |
| Board Volume | 75 | 80 | 85 | 95 |
| 25 – 31 | 3.6 | 4.2 | 4.2 | 4.5 |
| Board Volume | 75 | 80 | 85 | 95 |
| 35+ | 3.3 | 3.6 | 3.6 | 4.0 |
| Board Volume | 75 | 80 | 85 | 95 |