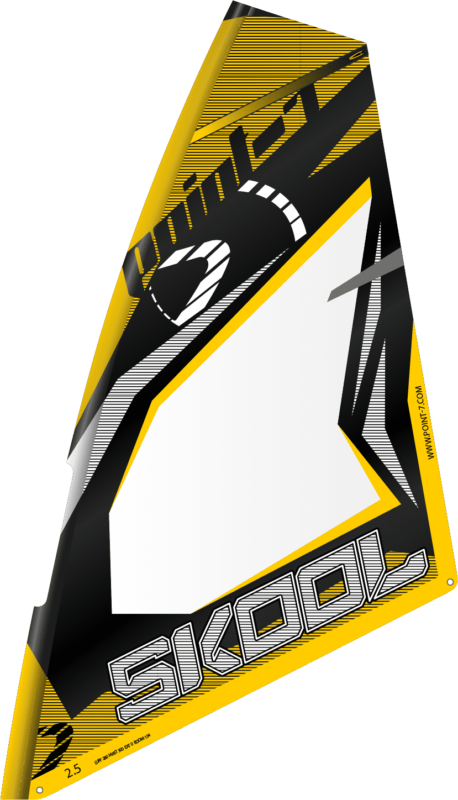 Full Dacron© Construction
Ultra resistant anti UV PVC trasparent window
Ultra durable construction
Easy to rig
Complete the rig with official SKOOL components
Make learning a breeze. Heavy duty construction, light weight feel.
An easy and durable sail for getting started. Ready to be beaten up by those who are learning windsurfing and it's smooth lifestyle. The sail can be equipped with Point-7 booms and masts, but also compatible with a wide range of components.
Heavy duty construction ready to challenge UV-rays impacts and abrasions. A PVC main window with a full dacron sail body. The weight of the sail and components are brought to the mininum to help learn fast, making this the ideal sail for also kids to learn windsurfing on.
Easy to uphaul, easy to tack and jybe on a long board. Great stability for the best fun!
| Size | Mast | Luff (+-2cm) | Extension | Boom (+-2cm) | Vario Top | Battents | Weight (kg) |
| --- | --- | --- | --- | --- | --- | --- | --- |
| 1,5 | 300 | 270 | 0 | 106 | yes | 1 | |
| 2,0 | 300 | 270 | 0 | 114 | yes | 1 | |
| 2,5 | 300 | 298 | 0 | 132 | yes | 1 | |
| 3,0 | 330 | 326 | 0 | 146 | yes | 1 | |
| 3,5 | 370 | 345 | 0 | 154 | yes | 1 | |
| 4,0 | 400 | 395 | 0 | 156 | yes | 1 | |
| 4,5 | 400 | 400 | 0 | 156 | yes | 1 | |