In our series of great locations around the world, where you also can ride our gear, we´ve been in touch with Tobi from Rhodes who runs the Surf and Kite Theologos center in some rather beautiful surroundings on this Greek island already known to many as a prime windsurfing location. We´ve summed up the details about this great location and we caught up with Tobi to get a bit more insights into this center:
Name of the Centre: Surf and Kite Theologos
Country: Greece
Spot: Rhodes, Theologos
Type: Kite and Windsurfing spot
Standard wind condition: steady, side-onshore from s/w, 4-5 bft.
Opening months: April 1st until Oct 31st
Opening hours: 9:30am until 7pm every day
Closest airport: RHO
Type of accommodation available: Next season we will start our own accommodation, right now we cooperate with hotels, apartments at the spot
Website: www.surfandkitetheologos.com
FB: / Instagram: Other contacts: Our FB and Instagram profile is "surfandkitetheologos" or contact us on our website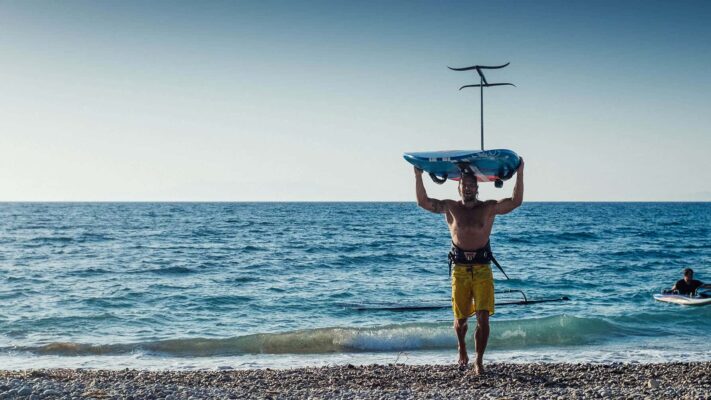 Tell us about yourself. How did you end up being owner of the windsurfing centre. You are German, but the windsurfing centre is in Greece?
I am Tobi, 28 years of age and living on Rhodes for the last 7 years. I started windsurfing at the age of 8. At that time l already fell in love with watersports. In 2011 I came to Rhodes only for the summer as a windsurfing- and kitesurfing instructor. Well, that was my intention. But then in the middle of the greek crisis my old partner sold the small windsurfing station to me. That was in 2012. This is when it all started. Since that day we are growing steadily. We built a huge kitesurfing station, a jet ski station, a beach apparel shop and are working together with Billy's Place and apartments. Rhodes is one of the biggest Greek islands. It combines the typical Greek lifestyle with the perfect blue sea, a lot of wind, perfect weather and many friendly people. This is what I love. It is possible to enjoy life and make business at the same time.
Why would a windsurfing client find your spot unique?
Our spot is located in Theologos which is only 5km south of the Airport of Rhodes. So you will have just a short transfer. Our windsurf station is based directly at the beach of the TUI Family Hotel Alex Beach.
The windsurf center has VDWS certified staff, got more than 70 POINT-7 sails and 50 Patrik boards. Neoprene, harnesses or additional equipment is available in sufficient amount and included in the rental price. Besides, we have training equipment for the curious of any age. Every season our station will be renewed with the newest material. Sweet water showers, toilets, chairs, a chill-out area, music, the Beach Bar as well as sun beds and shadow places of the hotel belong, of course, to our comfort.
At the beach the Meltimi wind gives you a lot of power in your sails. The wind gets compressed between the island and the Turkish mainland and due to the local thermal further strengthened. In the mornings the wind blows a little bit lighter and is therefore perfect for beginner surfers, whereas during midday the advanced riders get their money's worth. In midsummer the wind blows side-onshore from southwest, creating a small wave at the shore and a swell further out.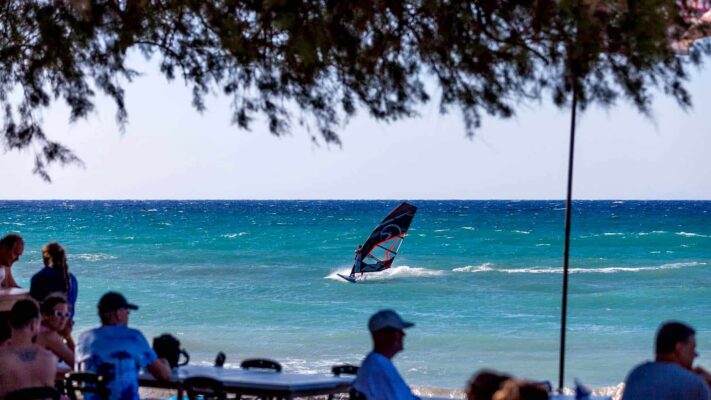 How would a windsurfing client spend a typical day for a windsurfing at your spot. From when he wakes up till he goes to sleep. (Include activities such as other sports, meals, night life, relaxing time..)
You will start the day with a nice breakfast at Billy's Place for example or at your hotel/apartement. From any accommodation around it is just walking distance to the windsurf station. Most days you will be able to surf already before midday with some light wind and continue surfing during the day with smaller sails when the wind picks up. Normally around 2-2:30pm. And if you like to take a break then just sit down, have a look at our kitesurfing station, rent a car to discover the island or just relax at our chill-out area and the beach bar of the hotel. Our team will do everything to make your stay as pleasant and fun as possible by regularly offering beach BBQ's, Greek food evenings in the taverns of Theologos, free taster courses and trips to Rhodes nightlife.
How many days of holidays would be perfect to enjoy the area and the best time of the year?
The longer the better, depending on your holiday period. Beginning of June until end of September you will enjoy a perfect time on the water. It is more than likely to have 6 out of 10 days with very good wind.
In the pre and off-season (May and October) the spot offers you another highlight: The Tramontana wind from Turkey can create waves at the sandbank of 2 meters and the wind blows at 8 bft. mostly onshore rather than sideshore. Those conditions can be tough and are not recommended for beginners anymore.
Thanks Tobi. It was great to get a closer look into this great spot. Check out these pictures we´ve gathered from the Surf and Kite Theologos center: