THE POINT-7 STORY
Taken from WINDSURF UK MAGAZINE by John Carter.
Words Andrea Cucchi // Photos John Carter / pwaworldtour.com, Steven Meert & Tommy Della Frana
Andrea Cucchi, founder of Point-7 sails, tells us about his and the brand's background, the design process and his forthright view of fin and foil racing.
Background: I was born in Italy, but we lived in Malaysia when I was eight, through until I was sixteen. My father was a recreational windsurfer and he introduced me into the sport. He had a business there, and I started windsurfing over there. On our summer holidays we travelled to Lake Garda and that is where I started enjoying windsurfing. I eventually moved back to Italy to study while my parents stayed in Malaysia for the business. I was windsurfing a lot when I finished school. I had a summer job during my school break and that is where I met some friends who were into racing. I had to go into the army for a while, as that is compulsory in Italy. I ended up in in a sports group there where I met Andrea Rosatti as well. He was racing full power and encouraged me to come and compete at the PWA events. I started travelling, found some sponsors and was competing for a while. I was able to support myself doing this, so my parents allowed me to do it. They helped me out the first year a little, but then I was on my own. I went to an English school in Malaysia, so I did GCSE's and A Levels. I started overseas and then finished school in Milan. I did the same exams as you would do in England. I did not go to university because my windsurfing was taking off. During my military service, which was for one year, I was in the sports group where we could mostly windsurf. At one event I won a trip to Australia, so I went over there and trained for a whole winter and then went straight into the PWA tour at that time. The level back then was super high also. I was the youngest guy, and it took a while to get any results. When I was competing, I was living in Lake Garda in the summer. I didn't even have a house, I stayed in a camping site, as it was more practical and closer to the water. In the winters I was training in Maui or Australia. I trained a lot with the Danish and Finnish windsurfers.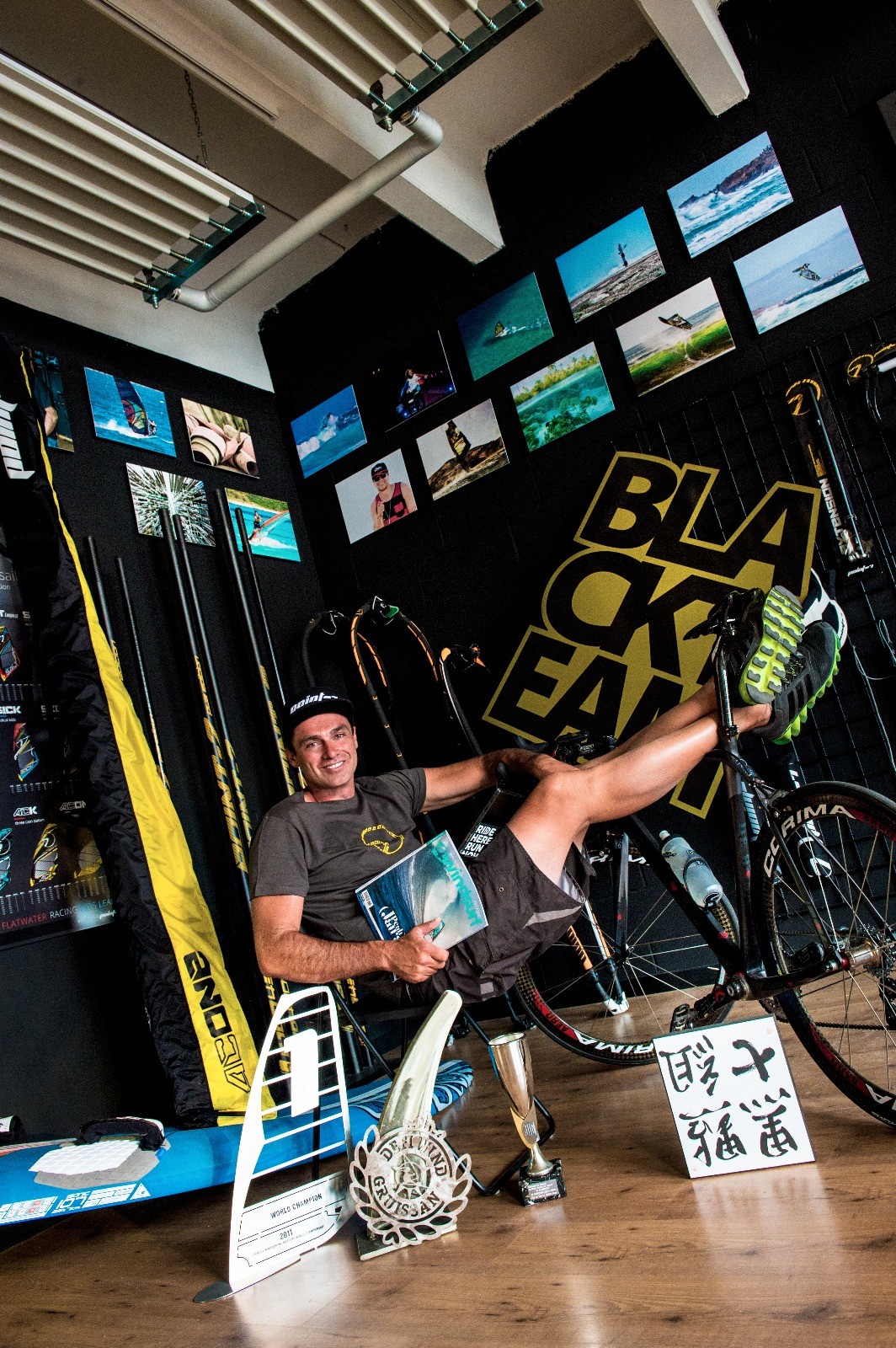 "I DIDN'T EVEN HAVE A HOUSE."
Racing: I have always been into racing. Coming from Lake Garda you don't have much choice. There are no waves there obviously, so racing was the focus. I tried freestyle but it was not my thing. My last good result in the PWA was in 2016 when I was 40 and finished 9th. That year I also had a podium in Costa Brava. I have 14 Italian titles, an IFCA slalom and Formula world title; an ISAF world title and I won Défi Wind in 2014. In truth though the memorable events are the ones where the Point-7 team have podiums. I have enjoyed helping the team more than having a result myself, starting with Angulo, Menegatti, Campello, Iachino, Yentel, Testa and now Johan Søe. Though for sure Défi Wind with seven races, 1400 people and winning the event on the last race, was a victory I will never forget.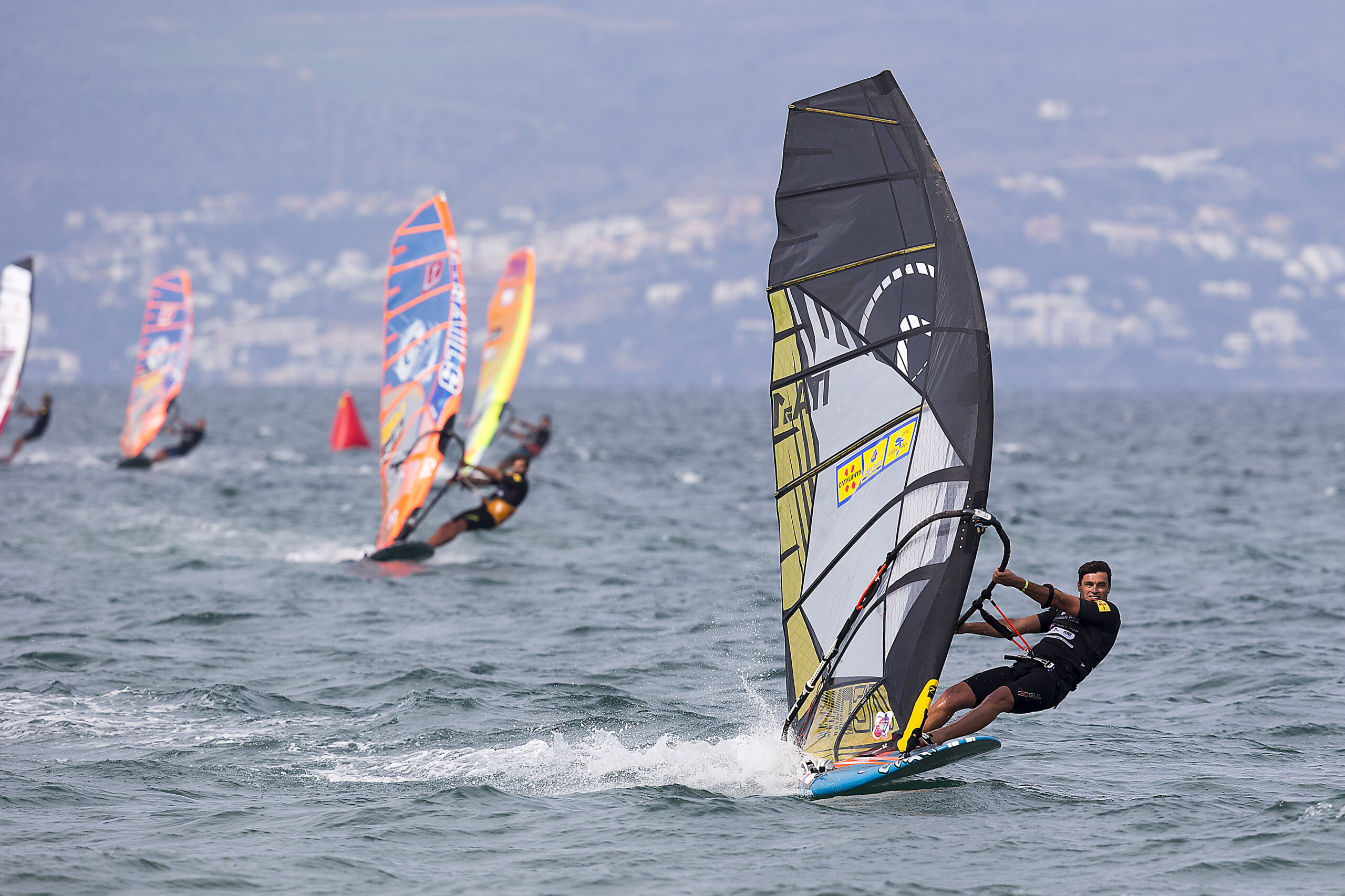 Point-7: My racing reached a point where I was not happy with my gear and my results reflected that. I felt like I had plenty of free time while I was a racer and I had to do something to fill the voids. At that time there were not riders like Antoine Albeau, who was still winning at fifty years old. All my friends went to university, and I was worried what I would do in the future. I had this thought in the back of my mind, of what would be the next stage after windsurfing. When I was thirty, I had an opportunity to open a windsurf centre on Lake Garda. But at the time I was seeing guys like Micah Buzianis and Jimmy Diaz testing for North Sails. I thought that something like that would suit me, something more dynamic. I wanted to go into the development side of the sport rather than teaching. Even though I already had an amazing life as a pro sailor, I decided to do something to start shaping my future. I knew Peter Munzlinger, who was a sail designer, but not active at that moment with a brand, and my family and a friend were willing to help financially, so we decided to make our own brand, with the right pricing and the right quality. I called everybody, we had a meeting and we decided to start and now it has turned out to be a full family business. It has been running for almost sixteen years. I feel we have been around a while now, but on the other hand I still feel like one of the younger brands in the industry.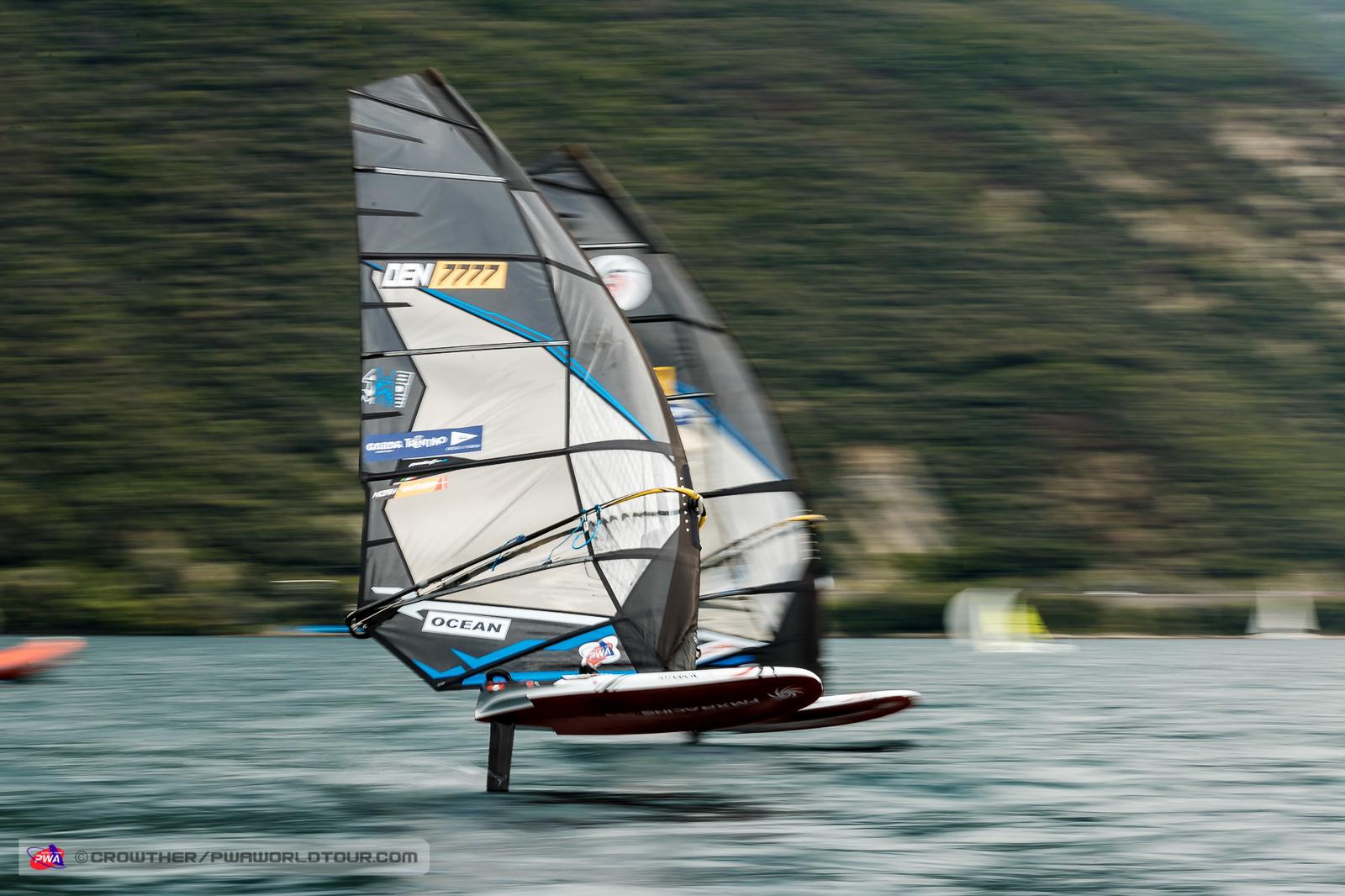 Structure: We are a relatively small brand. Our team is small. We are all highly active and cover different roles. We are a small company because our structure is light, but that is also how to have success in windsurfing now. The costs need to be low; the market is a small niche market, and you need to be smart on how you do business. At the end of the day, you need to make a profit, so for us it works this way. It is about keeping the right structure and making sure that everything works.
Name: Every time I went to see the ranking in my life, I always heard the English-speaking people saying, "I've got a point 7", 0.7 being the score given to the winner in racing. Even today Ben Proffitt during his commentary keeps saying, "Is he going to get that .7 points". So often, thanks to the 0.7 points given to first place, instead of 1 point, riders have won events with that small difference. Therefore 'Point-7' is the difference to make you win.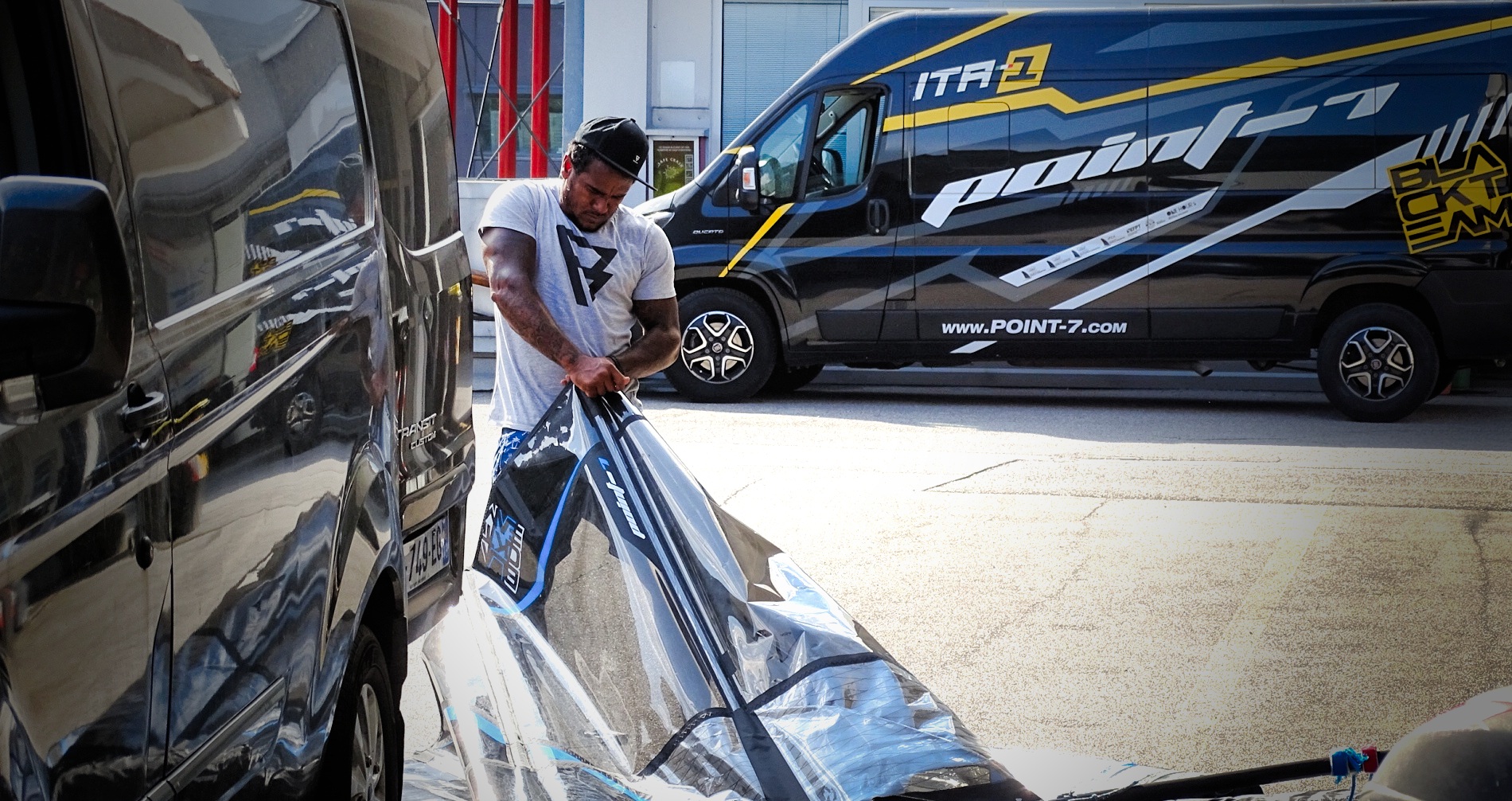 Trust: I believe in my team and trust them to do what they are good at. I don't want to have to be involved in every minute detail of the business. Our power is that we have a fantastic team, which is incredibly lucky for me. Everybody at the brand is good at what they are doing in my company, so that means I don't have to worry about everything. I totally give most of the guys the freedom to make their decisions. My sister helps with all the administration, so I don't have to worry about the accounts side, payments, finance, and all that. I was doing that at the beginning, but that side of it is not my passion. She is doing that side of things perfectly, which is awesome for me. She has finished her university and worked in the meantime 11 years for an American Multi-national company and her know how united exactly what was needed. Her business knowledge with my windsurfing. A perfect complete full package for a successful hard working windsuring company.   The other guys in the office are all doing an impressive job and that leaves me to do the testing, development, and other parts of the business I am involved with. They are doing their jobs so I can focus on mine. That is why I can still go windsurfing every day, test every day and be at events with my team.
The team: We decided to focus on young talents always and our goal was never to buy in a strong rider and pay them big money. We have never bought a champion. We always tried to find new talent which we thought could have success and then support those new guys one hundred per cent. That happened with Alberto Menegatti, Matteo Iachino and it is happening now with Johan Søe. We have had a lot of young guys in our team who ended up being champions or vice champions. That is the fun part of it. For sure then, some brands will come and take those riders as always! But that is fine. We had the highlight of those riders and we showed that our sails could win with the right support. So, then we are onto our next challenge. I met Johan in 2017. I went to an IFCA event to see what new talent is out there. This is the place to see who has the talent, motivation, and speed. I met Johan there and Noah Vinther and I really liked them as young riders. They have been on the team three years now. There has been a lot of work behind the scenes. Johan is the guy that calls you every day. He wants to know what he should try, how he should train and what should he do or test. He is really into details, and he is not sleeping at night if he doesn't put everything in order. He has the right mentality to be a champion. That is why he was on the PWA slalom podium at Fuerteventura this year.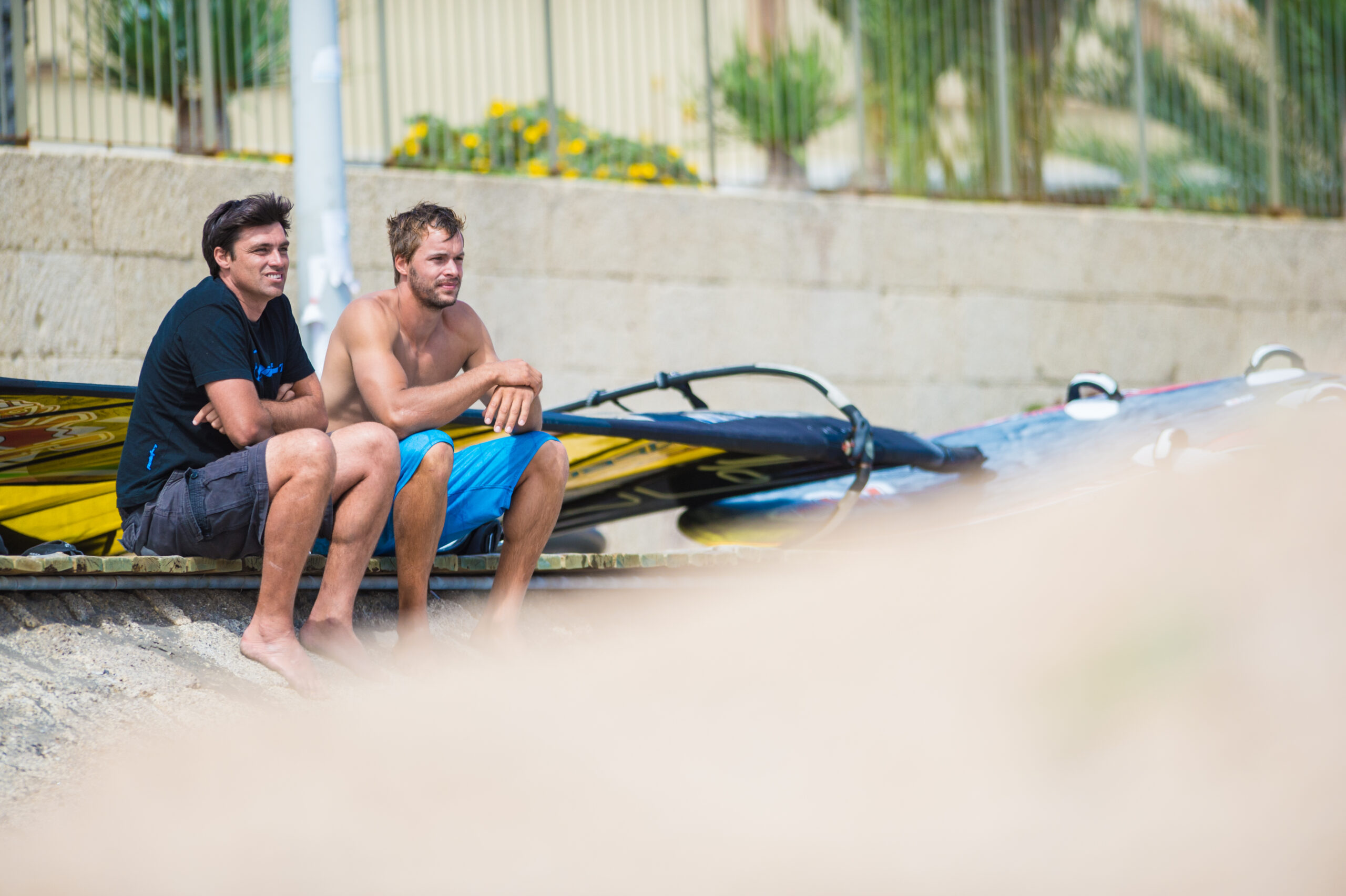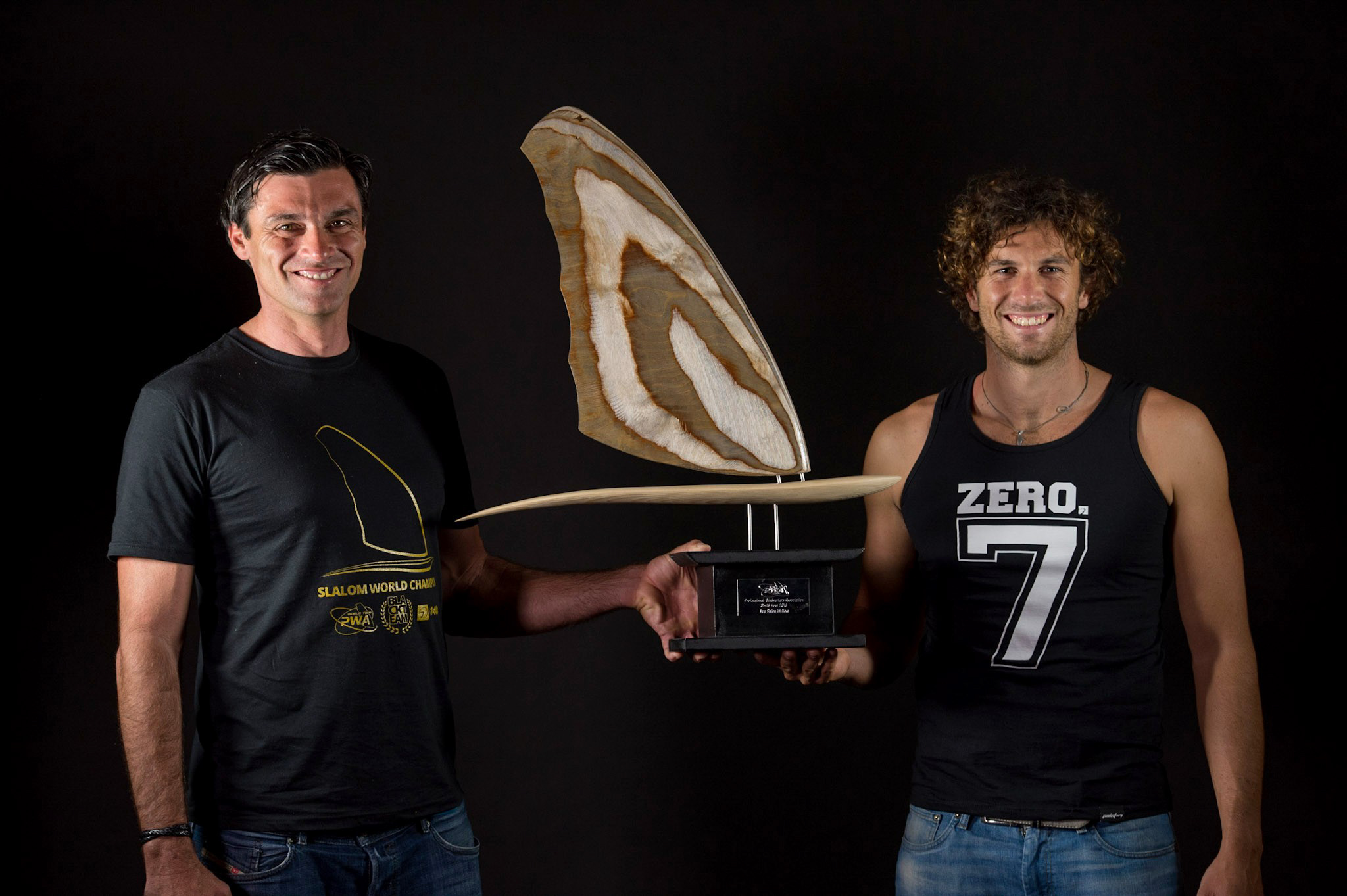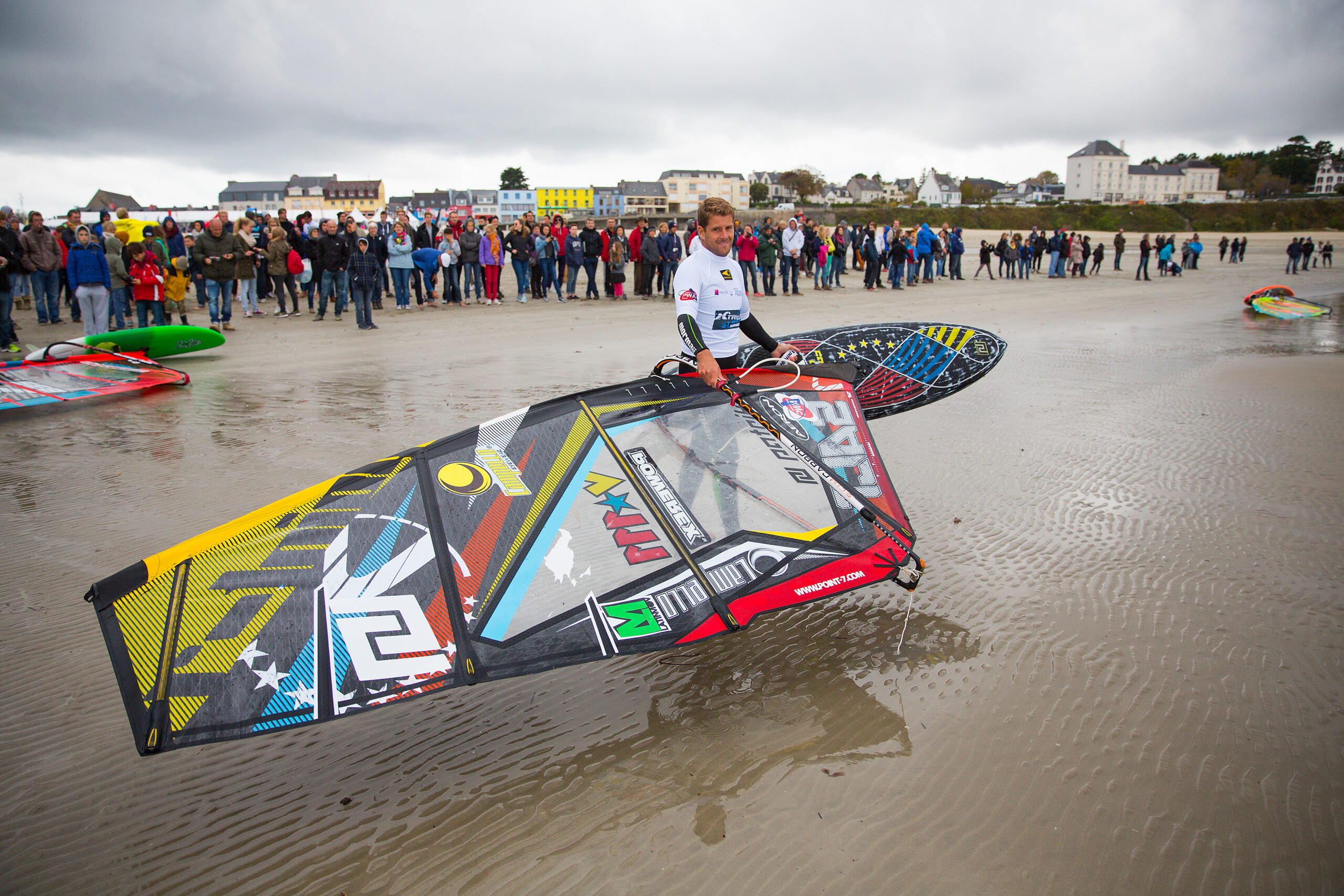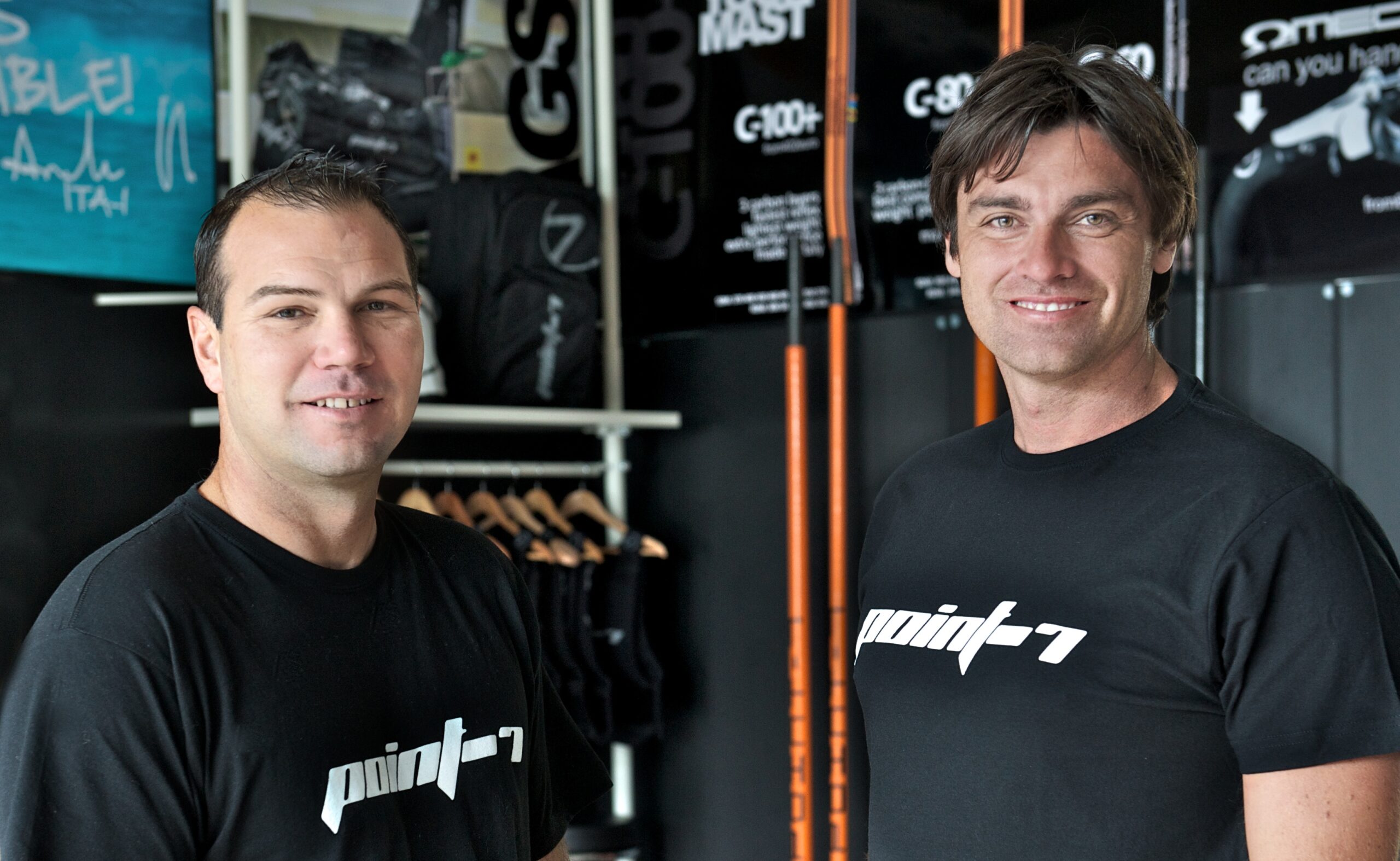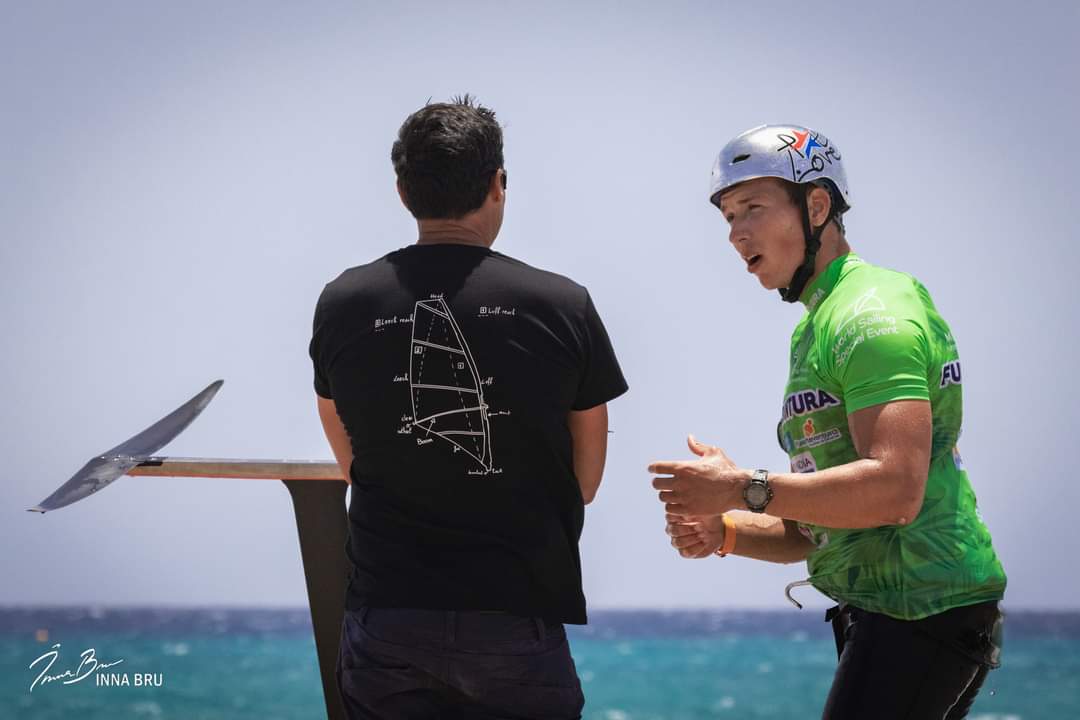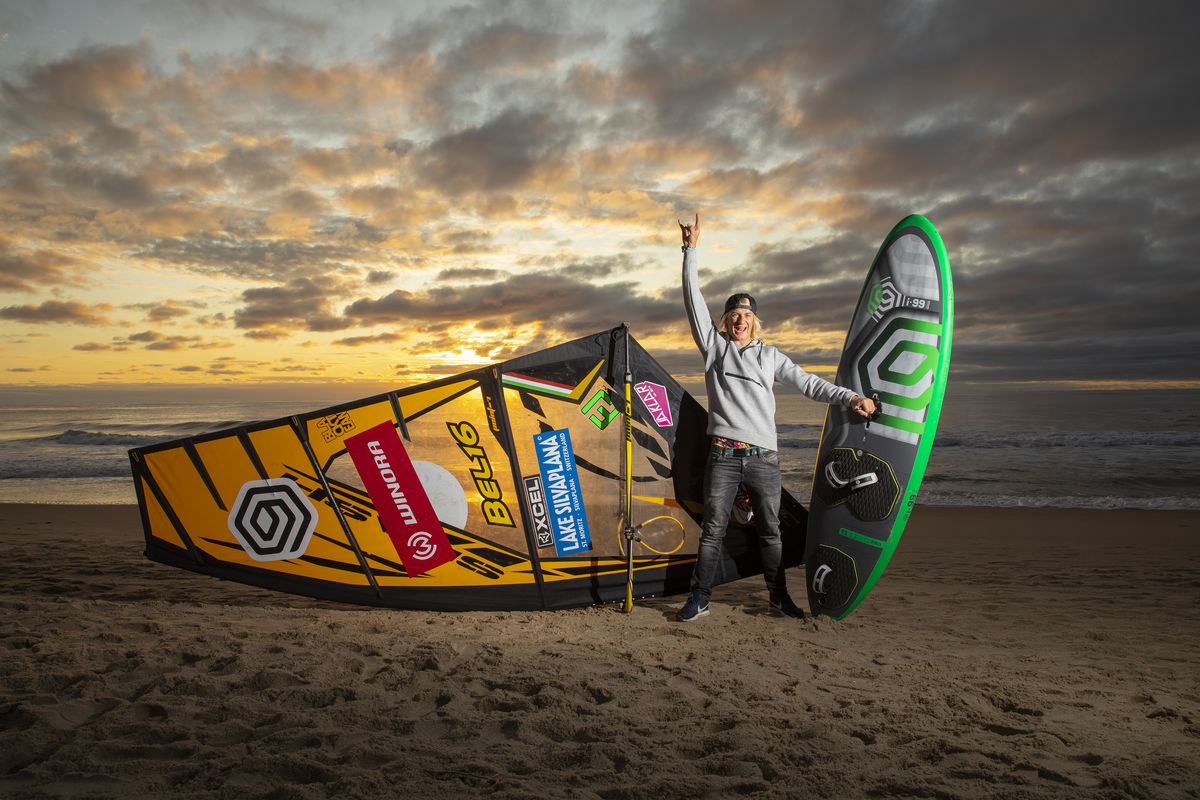 Black: We had to choose a colour to be different. We wanted to be different in everything we do to the other brands. It is either a brand that you like, or you hate, you can like the black colour or hate it. We saw the America's Cup in 2008 and we liked the black sails and we thought they were quite different to everything else sailing. We called up our producer of Monofilm in the US and we asked if it was possible to use black Monofilm. He said 'sure,' and we questioned how they would work in the sunlight. Still now after many years people ask us about the colour in the sun. We have had these sails fifteen years in the sun, so there is a reason we are using this colour. The producer told us it is the best colour for the UV rays because it protects the Monofilm compared to transparent Monofilm, which acts as a lens. The black Monofilm lasts longer in the windows, so now we also use a little bit darker Monofilm for the window also. We have a few splashes of colour on the sails. I was doing the graphics from 2013 to 2014. Then we had a friend who was designing famous sports cars who came in to help with graphic designing. He eventually got too busy, so now we have a new team of designers doing the graphics. I let them choose everything. There is a bit of colour to allow people to have a bit more fun. Also, every year now we put in a second colour in the range, so we had the yellow with the black and this year we have a green as well.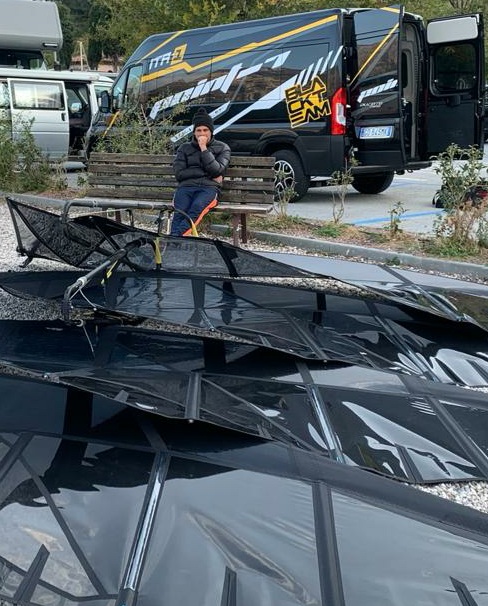 Lake Garda: Lake Garda is a beautiful place, incredibly special and unlike many other places. It is between mountains. What is good for us as a brand is that there are a lot of tourists coming who are windsurfers. It is the perfect showcase for Point-7. Regarding myself, I feel comfortable being based here because for testing it is one of the best places due to the fact there is no sand, no salt and a good variety of wind conditions. Therefore, I can go on the water and then come in and modify a sail in no time. I can do that every day, as it is always windy. The wind starts strong and finishes light, so I can try a lot of sizes in the same day. It is very practical for working. I do all the testing. All the freeride and race sails and even the freestyle wave sails. I just ride them to find out how comfortable they are. Being a slalom sailor, you get to know what comfort is. That is how you go fast. If you can put that comfort into each single line, that is already one huge step. We test each single size, and my focus is on that development. I also take care of the team and the marketing of the company. Of course, I know what is happening in each section of the company. Ultimately, I am the one taking the final decisions, but I like to brainstorm with the whole team. There is no school for sail designing and this comes with experience. There are diverse ways to design sails. The way we do it is based on customer and rider feedback to begin with. I'm in charge of testing all sizes and models and this is my key role in my company. I have a wonderful team who take care of the rest. I've a team who help me design, as it's not a job for only one person behind the computer. Feedback is especially important. Otherwise, how can a designer get ideas on what he needs to improve or do?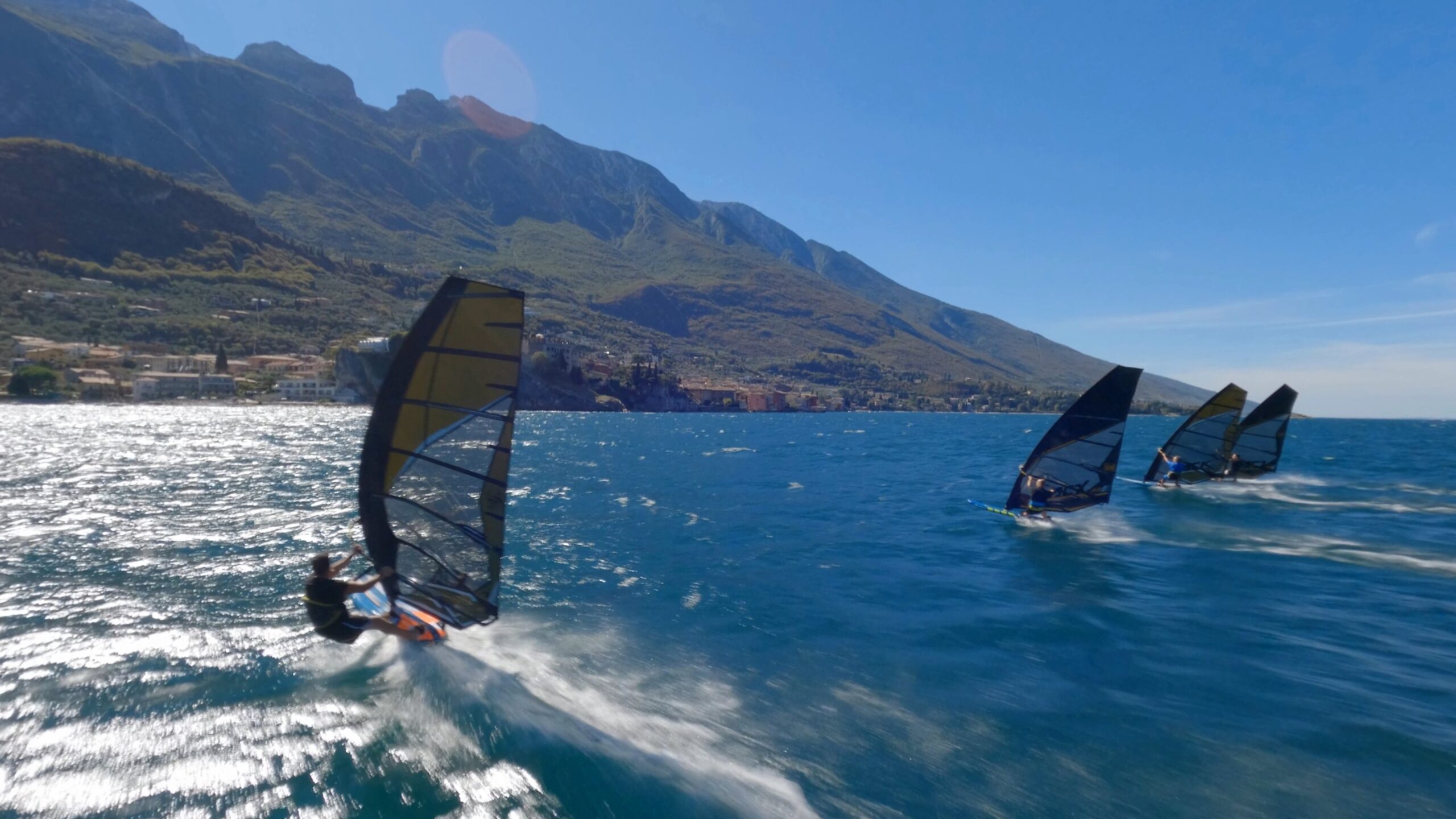 Teamwork: Of course, new projects and ideas need to come from a designer, but the result is from teamwork. We have our loft where we do direct changes and recuts of the sails after testing. I'm recutting the sails myself and we have a person who does all the stitching for us to get the sails ready to be retested on the same day. As I said, it's easy testing on Garda as it's windy every day and without sand or salt. We can come out of the water, recut the sail and be back testing in less than an hour, as the sail does not even get wet or dirty. The graphics and C.A.D. department are in direct contact to make sure that the graphics do not hurt technically the structural and performance design of the sails. We normally start by recutting the production sails to make the changes we want according to feedback. We test them on the water, modify them on the beach directly, or we take them to our loft 2 km from the water, and once we have achieved the step we were looking for, we give all the manual changes and any other changes to our C.A.D. department and graphic designers to design the new different protos needed. We produce all our protos in the factory, so they will arrive to be tested as they would be as production sails. We test them again, do manual changes if they need improvements, and continue the cycle. It's an amazing way to work as the theory is done on the water, and you feel each change you do, and learn so much each time from your own designs. It's so important to be on the water with customers and riders feeling each sail size, as you know exactly what they mean and often their feedback is a confirmation of the development team's next steps.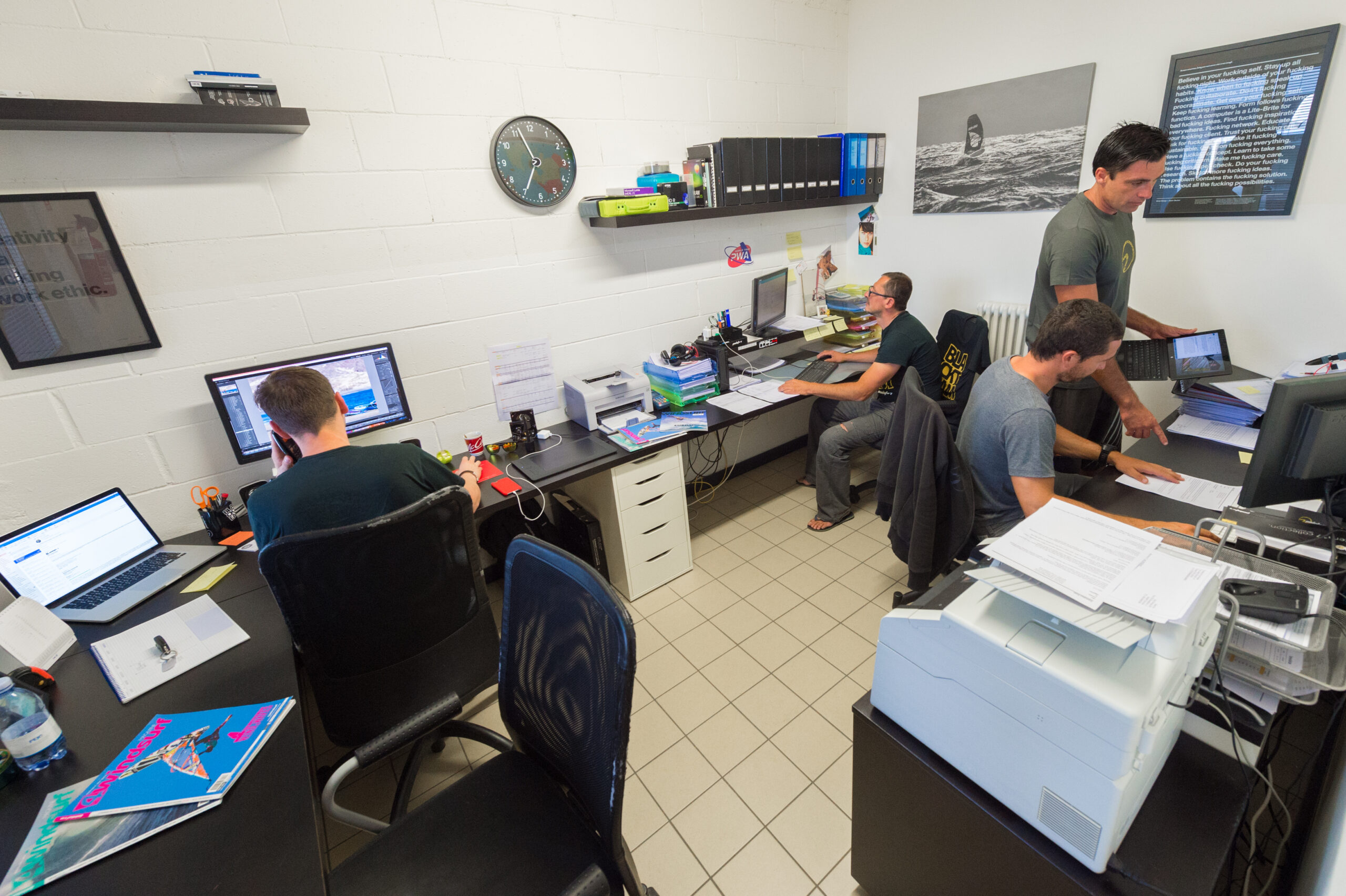 Sri Lanka: We produce the sails in Sri Lanka in a German owned factory. The communication is exceptionally good. They are more like our partners than suppliers. All our suppliers all became kind of partners. They are all pushing for us to have the best products, the best technology and the latest on the market. We produce our masts in Italy, as well as the mast bases and extensions. We can have even more quality check on those items that are closer to home. Then booms are made in china, with our molds and our exteme layup request which took years of testing to get a different reflex for each boom size. The other accessories are made in China too, and undergo a lot of prototypes and testing hours. For these last each small change is airshipped and tested after few days.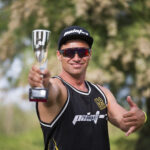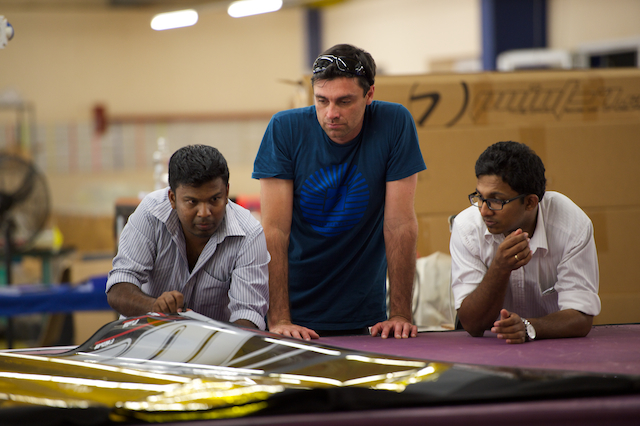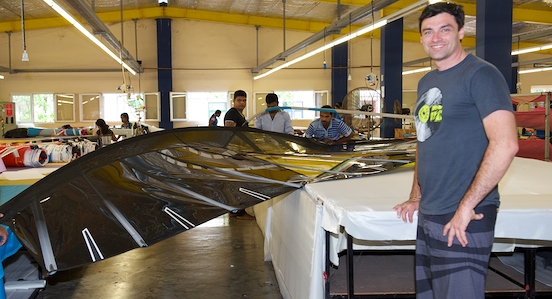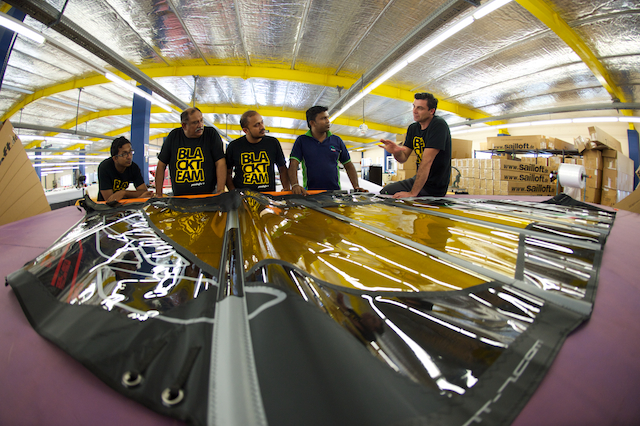 Fin or foil: Unfortunately, there is always the personal ego to say what is better according to personal interest and this has made a huge confusion. Our sport is amazing for the different disciplines it offers. There is freestyle, wave, slalom and the new discipline, foil. It is super simple to divide. Innovation brings more costs, more skills and a selection of people who will go that direction. So, we should never forget what works, thinking that something new is the future. In this case foil is just a new discipline. We saw that by mixing fin and foil the people who race has halved, if not more. The iQFOiL Olympics has lots of participants, but that is a different world and is just like the Bic Techno was. We need to be careful in what we say and decide for our sport.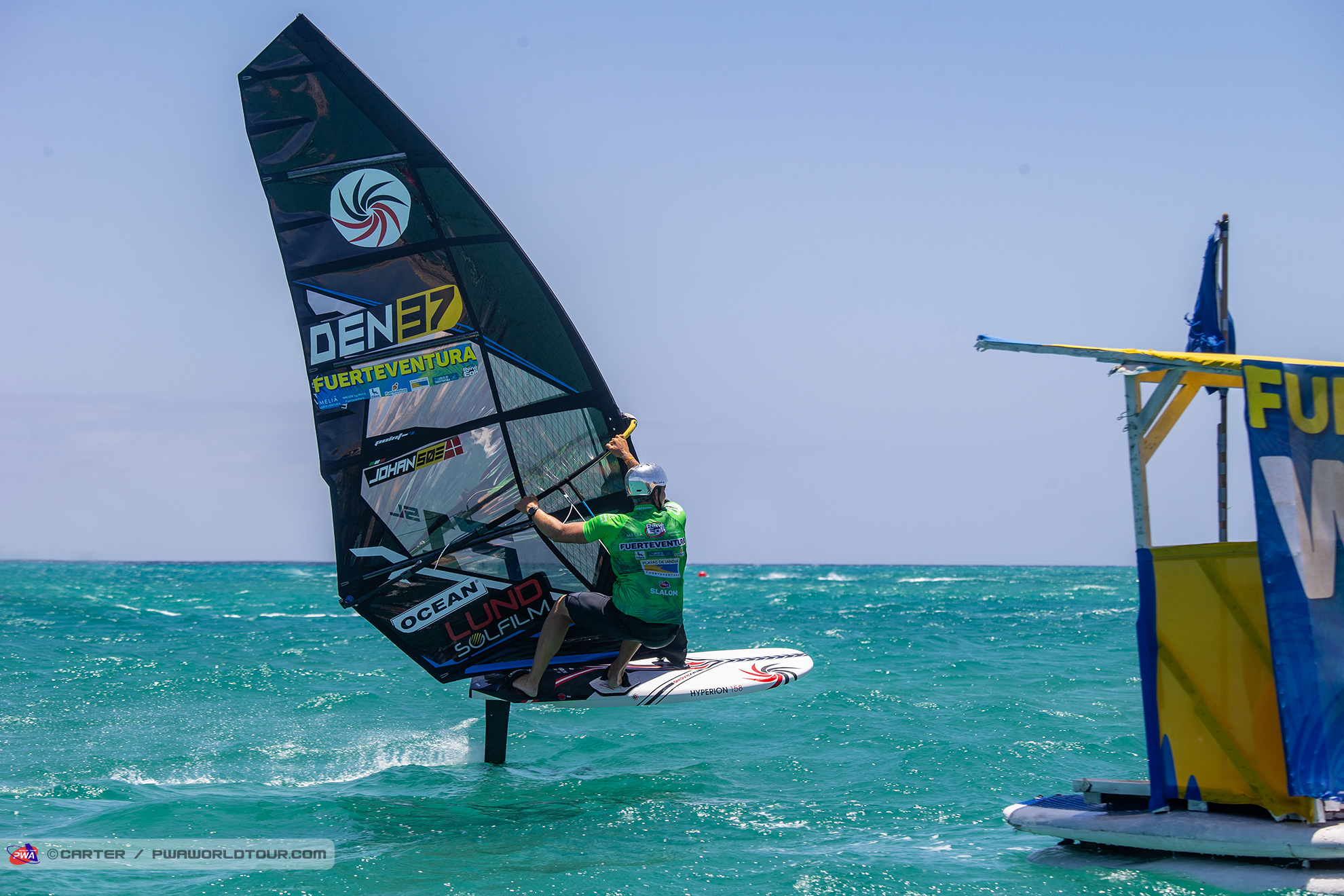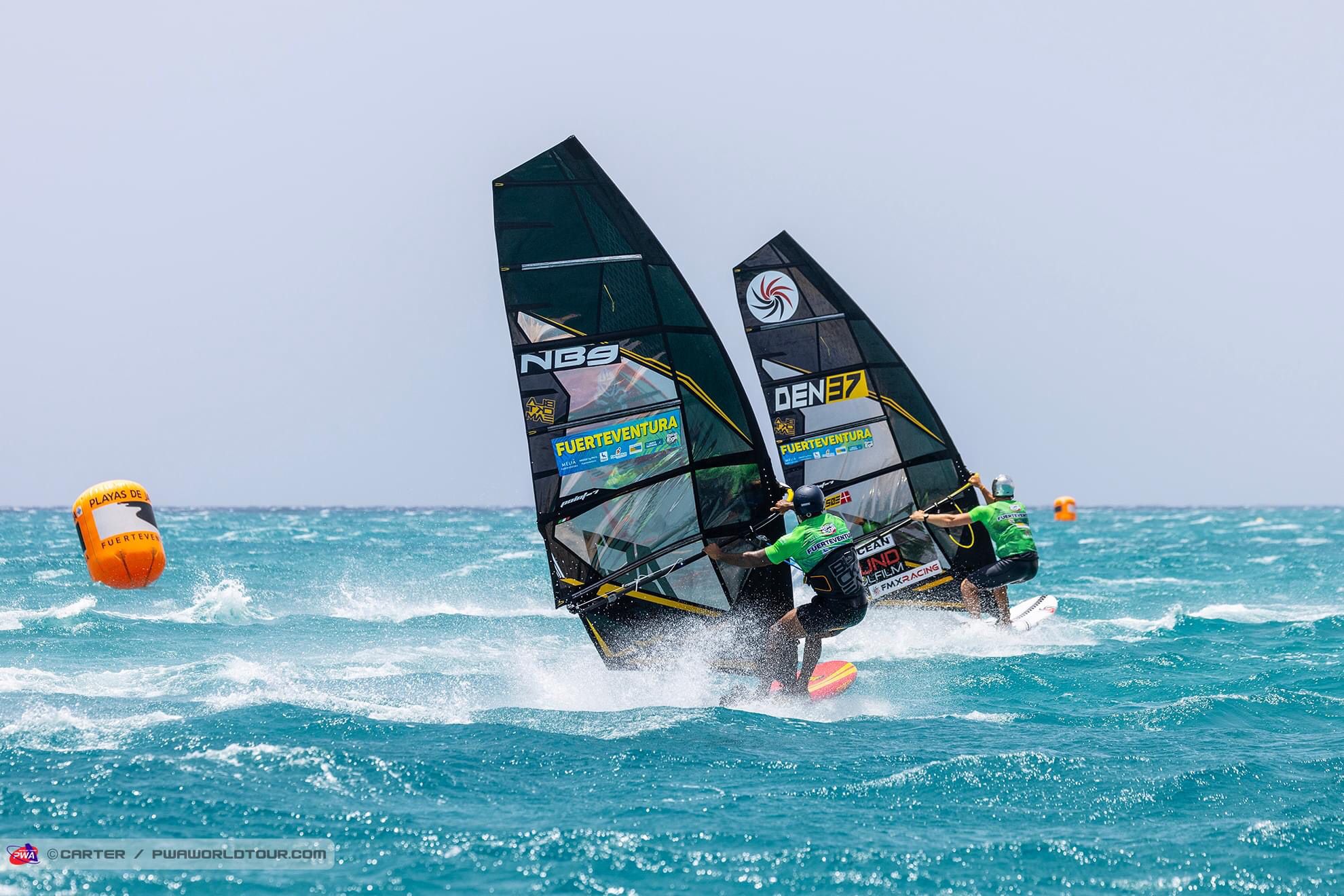 Disciplines: Windsurfing is with the fin. Wind foiling is with the foil. Two different disciplines for racing that can't be mixed. It's like Moto GP (fin) and F1 (foil). Sure, one will be faster on the course, but that does not mean that the slower one should add two wheels to the bike. That would be the biggest mistake. The core market is windsurfing and will never die. Foiling has existed for ten years. Development has brought foiling to be sailable also in high winds, therefore it would not be fair to limit foil to light winds, and it is also not fair to oblige people to race on foil if they don't want to foil or be forced to buy expensive foils. So, for racing I would keep it separate and push both fin and foil to the max. For the market, the best is to give choice to do what everyone wishes. I personally windsurf, and wind foil only for testing, but I'm not able to go strong wind foiling. I live in a place where I can be on the fin each day, and I like the physical part to be on the fin. Foil is more about balance and focus. I hope the direction of racing goes for splitting the disciplines; 99% of the industry believes the same. I just hope we can also start a new class for the youth for both fin and foil. Something for the kids who have no interest in the Olympic class but are interested in a professional career which would lead to IFCA and PWA. The industry is talking about it. It could be remarkably interesting as we would be able to sponsor and support it, something that we can't do now with iQFOiL, also the iQFOiL class is expensive for parents.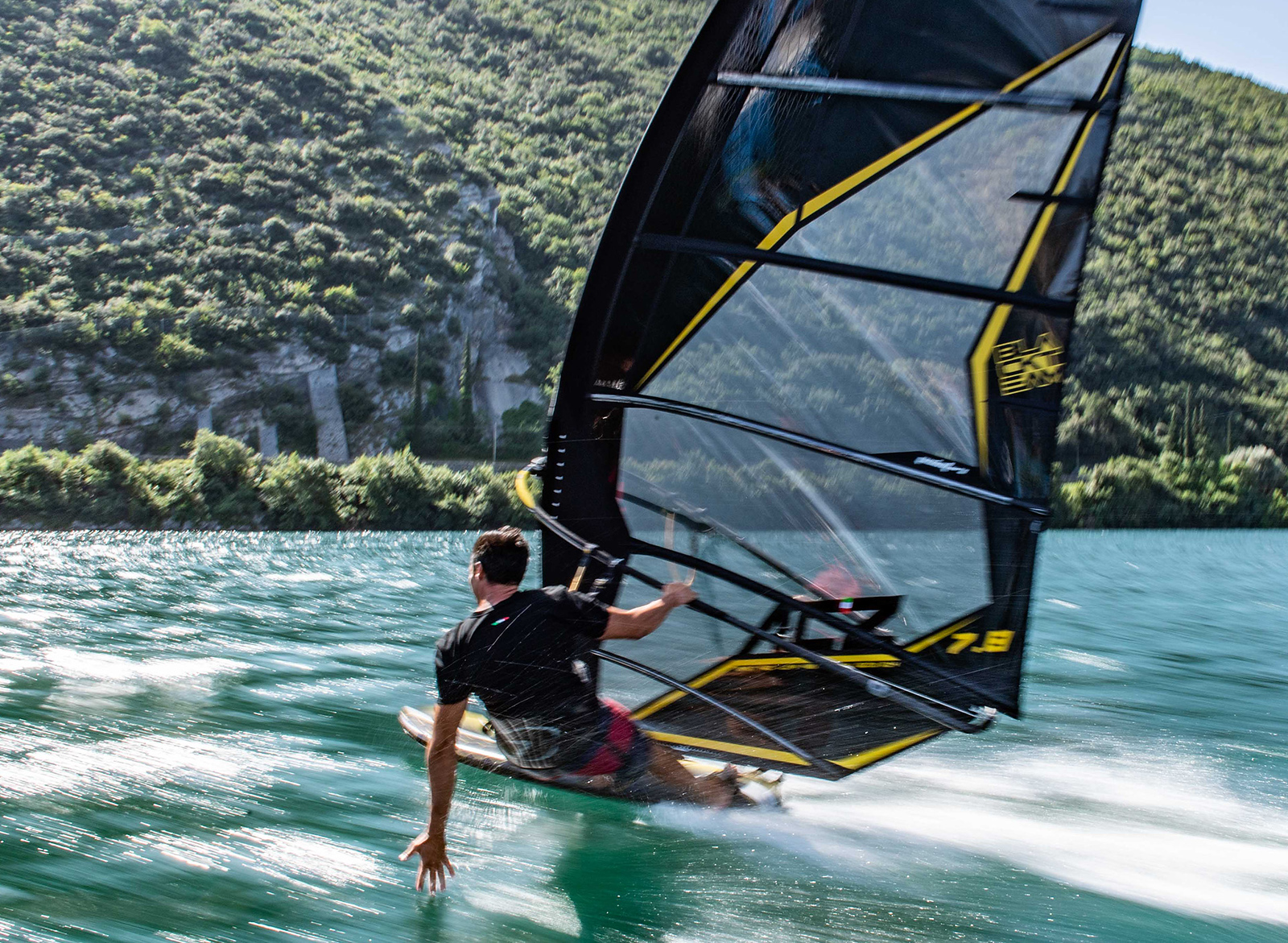 "WE ARE A CORE WINDSURFING BRAND".
Passion: Taty Frans did the sport he likes. I admire him because he showed a real passion for racing and for windsurfing. He knew from the start in Fuerteventura and Gran Canaria this year, that he would not win as the foil on the course has a higher average speed, but he still went to the events. He proved the point that fin, and foil can't be mixed. Like Taty there were many others who were on fin, and if things don't change, next year there will be fifteen guys less. Only a few years ago you had to be on a waiting list to enter, this year there were thirty places available. One of the thoughts is that the 'losers' from iQFOiL will join the PWA, but If the disciplines are mixed, they won't, as most don't know how to go on a fin. So, splitting will come naturally in the future, and we can't also wait for iQFOiL to build windsurfers. Even if Taty did not win, his speed and results gave amazing feedback to our sails and got support from the public. It was more proof that shows where the core market is.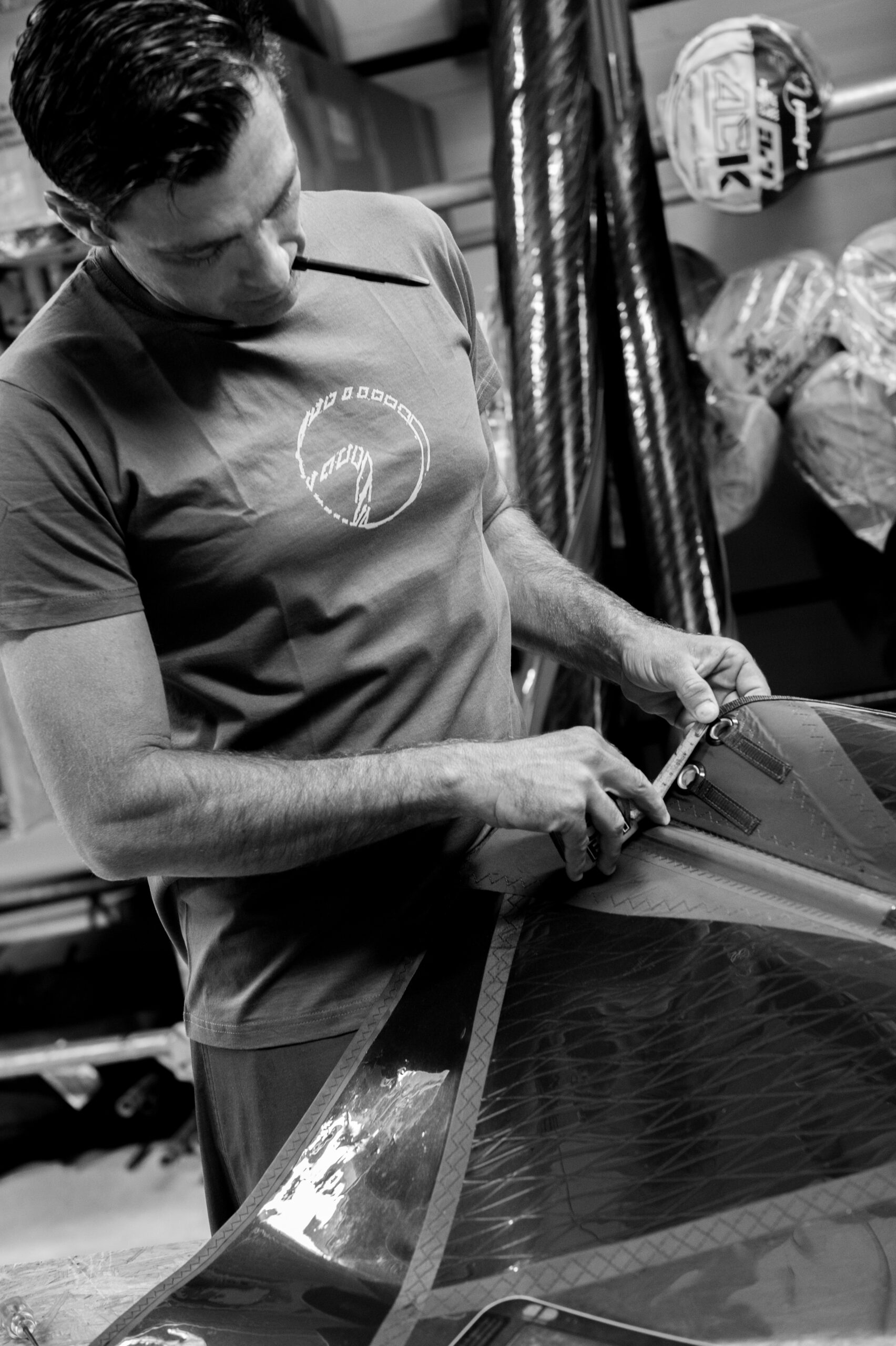 Ambitions: We are happy where we are with Point-7. We don't want to be number one in the sense of being the biggest brand. We want to have a healthy company and we want people to enjoy our product and our lifestyle. We want the people who buy our product to live the same way we do. We are a windsurfing company, and we are not doing any other products like wings, kites, or SUP. We focus on windsurfing rigs and that is the heart of the brand. We want to be the best at producing the best windsurfing products. We are a core windsurfing brand. Being the head of the company, I am always thinking every day of what I can improve. I don't feel like I finish my job, go home, and relax. Also, on the water I am often thinking about the product rather than how much fun this is. You lose a little bit your hobby on one side, and you are stressed as in any other job, but let's say that thanks to my sister, who is taking care of the business plan and the financial side, I am more relaxed. I can focus on what I am doing so I am enjoying it.