Rytis has joined the Point-7 Black Team last year. We loved the way he shared his experiences on his Youtube channel and social media, how he explained things to his followers, and this was interesting for us to follow too. He managed to jump to top 15 in PWA events by putting a lot of effort in his training and taking everything very professional. His updates on the racing scene through his media work, his effort and upgrade in results, made the collaboration stronger with our brand in this second year.
Yes, he is probably the tallest racer in PWA and has just achieved a new role in Windsurfing.
Nationality: Lithuanian
Age: 27
Discipline: Slalom8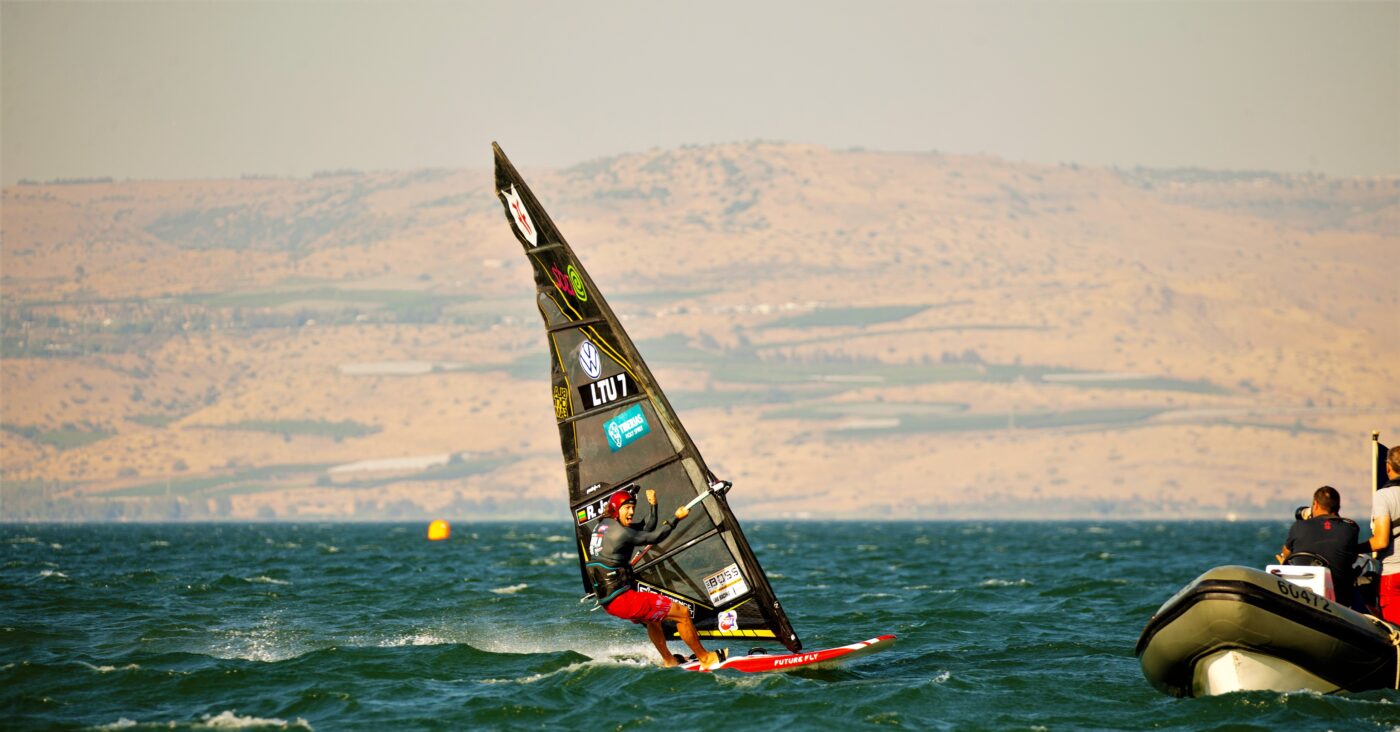 Do you only windsurf or do something else? – PWA Vice President
If you must choose your two best results, which would they be? – 18th Defi Wind, 6th IFCA Slalom Europeans
A day on 7.1 slalom fin day or a 6.7 foil day? – Starting to love the strong wind foil more and more, so I will go foil, but I still love full power 7.1
A day 8.6 slalom and big board or foil board and 9.0? – Foil 100%
How do you see the future of racing and the competition between foil and slalom? Foil until you are full power on 6.2 and small board. However, if there are big waves or it is difficult to launch then we will switch to fin sooner.
What is your racing plan for this year? To do the full PWA tour and maybe the IFCA Worlds.
When you get on the water, what do you do to improve your sailing? – Sailing with high level training partners is very important. Then if you have the opportunity to train on a course with starts that helps tremendously and finally being filmed from the side and analysing the footage.
What do you do to keep fit out of the water? – Trying to hit the gym 2-3 times a week and focusing on strength – primarily doing heavy compound movements like squat, deadlift, lunges, hip thrusts, pull ups.
Do you follow any diet or health program? – Eat as much as you can all the time.
If we want to follow you on your socials, give us a motivation to put follow on your socials. – POV footage on all my social channels from races, tutorials, lifestyle videos – on my socials you can find everything about windsurfing.
Follow Rytis on his links:
https://www.youtube.com/rytis_jas
https://www.instagram.com/rytis_jas
https://www.facebook.com/Rytis-Jasiunas-367051497385737