The One Hour Classic 2021.
Existing from over 30 years, Point-7 is holding the record of this classical race from Lake Garda. One of the biggest and most important PRO|AM events, where the winner is the one doing most laps in an hour. Point-7 was breaking the record with Alberto Menegatti in 2013, later with Matteo Iachino in 2016 and in 2018 with Bruno Martini with 19 laps.
From few years there was the introduction of the foil edition as well. In the windsurfing edition, our boss Andrea Cucchi managed to win after 2 years of no racing, but the result of the full team has been amazing: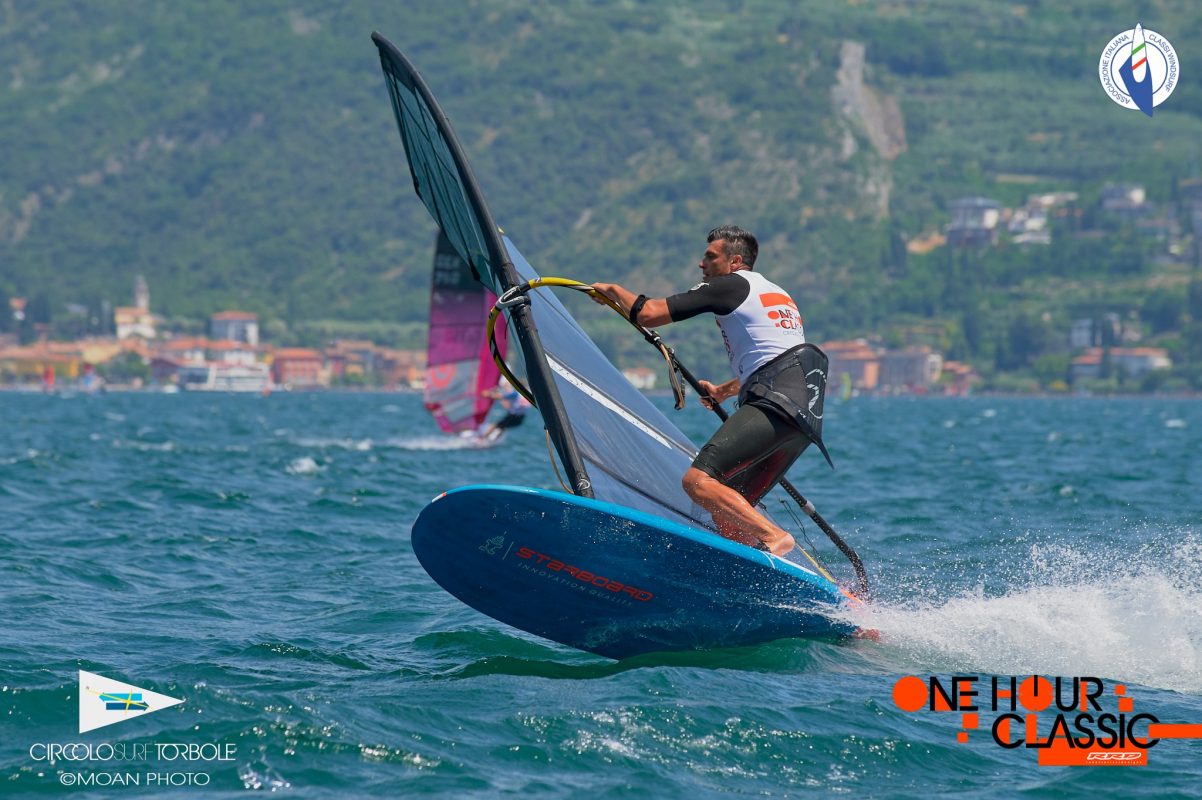 Point-7 Black Team Results Top 10.
1st Andrea Cucchi
2nd Johan Soe
7th Twan Verseput
10th Francesco Prati.
Categories:
1st under 20 Johan Soe
1st under 20 foil Johan Soe
2nd Women Anna Biagiolini
2nd Women Foil Anna Biagilini
3rd foil Johan Soe.
Young Best Mattia Saoncella.
'Andrea Cucchi' took part at the first One Hour Classic 28 years ago. I was 17. It was my first event ever. I remember that I was still living in Milan and used to go on weekends and holidays to a camping in Malcesine, where my parents were leaving a caravan for the whole summer season. I had friends there who were pushing me to get a sail number to go racing. That year I took part at the first event of my life, the One Hour Classic. This event is still the biggest local pro\am event on Lake Garda. It's a kind of smaller Defi Wind, but in terms of work out is hard too. You need to sail from one side of the lake to the other for an hour, and it's on big sail, between lots of strong gusts, lulls, and 16-18 jibes between lots of riders.
When you would ask me if the Defi is more physical, or the One Hour, it's hard to tell. The Defi in strong wind kills your legs, the One hour in lighter winds with big sails often on upwind mode, kills your back. Defi takes 40minutes, the One hour is a longer race, but at Defi you could end up doing more races a day.
After many years of racing, during the Covid-19, I had decided to stop racing myself. I thought I had been racing enough in my life and my energy and focus for it were less. When you sailed as a pro for many years, you know what work is behind the scenes to stay competitive, and if you don't manage to do it as a full-time job, you cannot expect to go in a race and be at the top. This was kind of frustrating me. I did not want to go racing anymore knowing that I did not prepare as I used too. Even if I'm on the water almost every day for testing it's a different thing; the real time on the water is not much, or at least not as much as it should be. I had also realized that it was bringing me more enthusiasm to see our Point-7 riders winning, rather then being myself winning a race. So, I had decided not to race anymore.
Less than a month ago, I had my friends, my Point-7 friends who know who they are, that were pushing me to do the race. I really did not want too, but I was feeling also that I was kind of lazy on one side. I also felt that I did not want to go on the water just to take part without pushing to win, but just to enjoy the race itself. It would have been a different way to join a race, but maybe that was the new way to take part at the event, and not stress if I would have not been cruising in first positions. I was thinking of other friends of mine who were even older than me, even over 60 and still with so much energy and motivation too compete. This was really fascinating and made me feel kind of spoil sport or loser. Sometimes you see top pro champions who cannot quit racing as they love it, they start going down the ranking for many reasons, and quickly some younger generation forgetting what big champions they were, risking to lose respect forgetting what they had achieved in their sports career. Those Champions though are to be admired because after so many years, they are still there battling to win, or to enjoy what they love, even if they are not 20 anymore. I see it for example with Valentino Rossi in Moto GP, if someone does not know his past, they would wonder what he is doing there at his age, but he loves it so much that he can't stop and should be respected for that. No one should dare to talk bad about him. In windsurfing we have still great examples of World Champions who turn up to race and are even over 50 because they still have fun. I'm not putting myself between these amazing champions of course, but I thought if they do it, why should I stop racing and why not join events just to share the fun of what I always loved doing.
I therefore took my gear out and for 4-5 days I sailed it 30 minutes to tune it and get used to it. I was feeling fit as from February thanks to a friend specialized in function medicine who told me, you are now 45, it's time you change your life rhythm and food. After 2 years no racing I was kind of excited and went on the water for the first time not caring of the result, but to enjoy the thrill that racing gives and to have fun with friends. I did not care of the rest, as already been back at the event meeting so many friends again was great. The wind came in, I had an amazing start at the race, and I was leading from the beginning. I was not really expecting that but felt bloody good! I turned around and saw that I had our Point-7 Black Team with Twan Verseput and Johan Soe in second and third position, and thought, ok if I don't make it to the end who cares, it's fun , and if I don't make it, they will do the job, but let's go for it!