June weather is warming up fast, time to spend more time on the water.
Time to have a chat with Andrea.
(Ph Tommy della Frana. )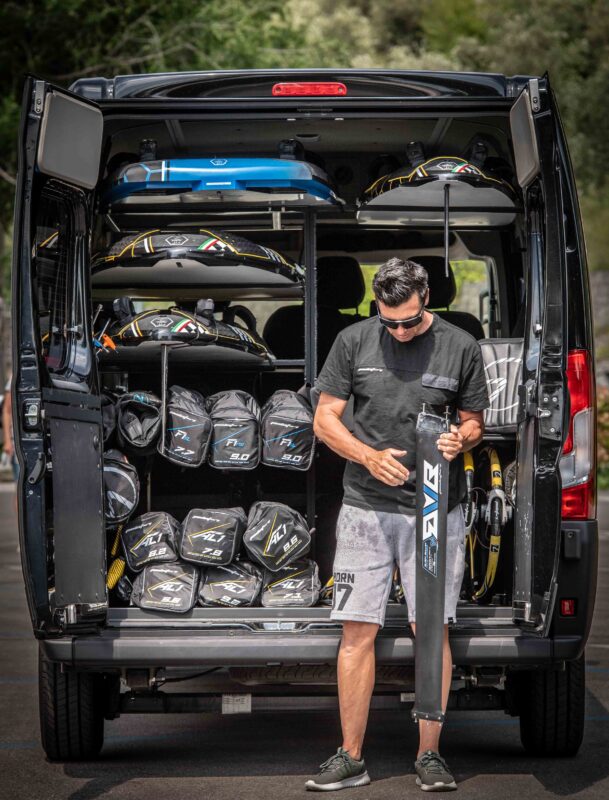 TWH:- At P-7 it has been a great winter of development and you spent many cold days on the water. What was the drive to get you out there day after day?
ANDREA:- Hi Russell, Nice to have you interviewing me! The drive is to love windsurfing, plus I need to test a lot of gear for Point-7 and can't stay out of the water. If I see wind, I can't focus on anything else than to get out on the water to the job. It's priority. Products need to be tested and be excellent. Even if my mailbox is exploding, e-mails can wait the evening, night… …early morning. I used to spend winter in the Canaries and Summer on Lake Garda, but now I spend more time in Garda also in the winter. It's cold as we normally have 5-10°C in the winter when it's windy, sometimes even below 5, but with the right wetsuits and organization, I don't realize anymore if it's summer or winter. In summer you sweat when you rig under the sun, in the winter you can sweat too if you cover up properly.
What I enjoy is that here on Lake Garda we have the full set up of the loft, our design team, is only few km from the water, therefore we can be in and out of the water with new changes in less than 30 minutes.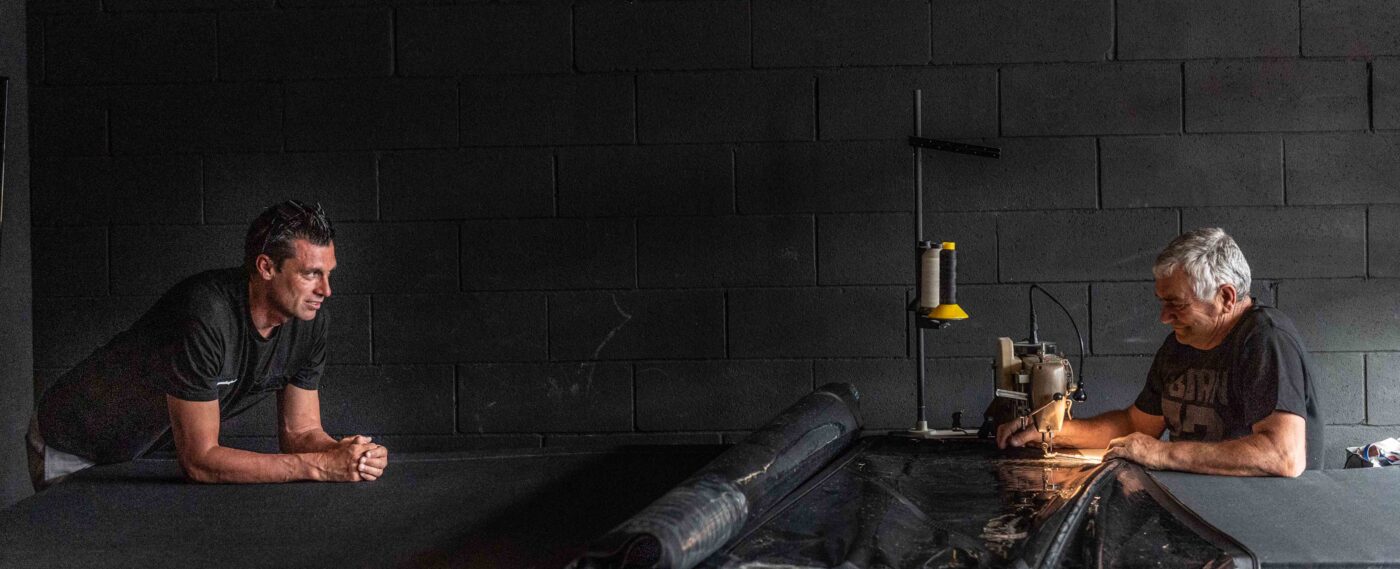 It's giving us chance to test the full sail range in all the sizes without losing time and efficiently. Our mast supplier is only a couple of hours from us, so also this gives us a great support to test new ideas and technologies. The only sail model we keep testing in the canaries is our Salt Pro pure wave sail. Josep Pons has learned a lot and he is managing the development with us.
TWH:- The new rig components are amazing. K series masts, Carbon Pro booms, Carbon Pro extension and Pro base. All making the rig lighter and more reactive. Everyone will feel the difference but how do they help you with the development of the sails?
ANDREA:- This is where the integrated rig becomes an advantage, not only for us testing, but as a final product for our clients. It's often thought that carbon is about stiffness and weight, but those are only 2 factors which I would not have as priority to the final product regarding performance. A rig is alive. A rig is breathing in the wind and over the water surface.
The combination, synergy of all the components must become one. It's a like an orchestra, a chemical love between the parts. The mast must follow and enhance the reflex of the sail, the boom must allow the mast to have its natural reflex, and the extension must follow the mast curve.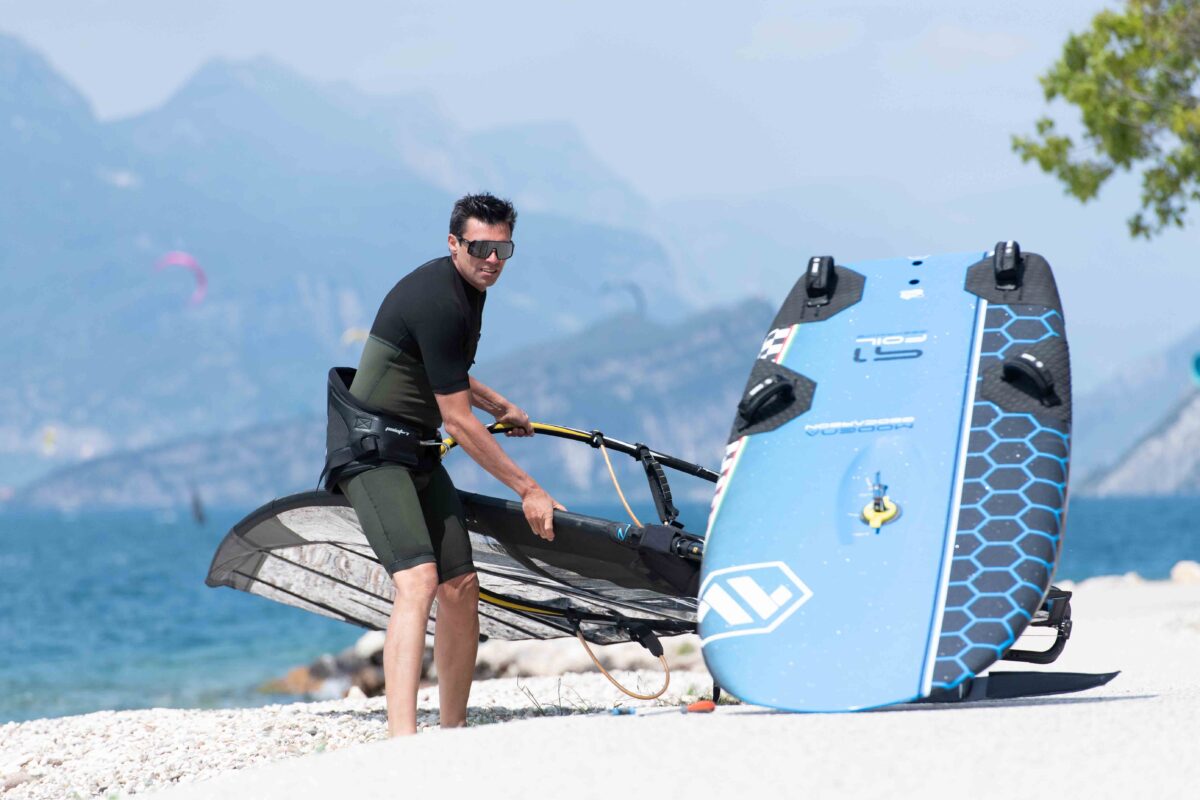 When all these components are developed together, the rig will deliver an ultimate comfort and performance that will give more pleasure and important results to the pro-riders, but even more important to our clients. Often our clients underestimate their level. They think that for them it will not make a difference to have an integrated rig\mast. It's so wrong. If the gear is working perfectly it will use up less energy to the rider. Meaning more fun, for a longer time, while a pro-rider would still have the training and skills to be performing with something less perfect. When we talk about having a stiff carbon boom or light, it's kind of easy tool for marketing. Everyone can see something is stiff and light, but how hard is to see the reflex which is what allows the rig to express the real performance? If you make a boom super stiff you will kill the power of the rig. The mast will be trapped from working and it will be just more work on the body of the rider. There are lots more properties to consider when developing a rig. So, the integrated rig, the importance of how each component combined is the key to an amazing product. The mast looks black, they look all the same, they can all be 100% and constant or flex top, but once they are put under the downhaul of a sail, and not 30kg in curve measuring machine, what looks all the same, will not be the same at all. We took long to present on the market a carbon extension. This would have given a different flex to an aluminium extension. We had to make sure they both had to bend the same not to ruin the concept of the integrated rig.
TWH:- The summer is coming and lots of time on the water with no wetsuit or maybe a shortie. Development time of the new range. But how do you develop such a large range of sails?
ANDREA:- Yes, now it's faster to get changed to jump on the water without boots, gloves, neoprene masks…
It's a good question. Often, we receive even 30-40 protos in one shot, and I feel the stress just because I do not know where we need to start from. So, you see all the sails in the van, you know that in the morning you will have 3h of wind and maybe 7 sails that you can test in the same condition. Luckily, Garda is an amazing wind machine. We have wind everyday and of all wind strength. In few days you realize how much you can test and that early stress to see all those sails to test, is quickly gone. We normally rig all the sails in the loft, tune them and take notes. This way once on the beach we don't waste wind time. The changes done on the protos we receive, are also things that we know already will work. It's difficult that we go backwards in the development, so the testing mood is always fun, and not kind of scratching the heads. We might try new concept that work different but not worse. It's always more like, what can we add to give more to our clients, or if we know we started a new project like the foil sails, we already know that there will be work to be done, and continuously new options to explore. Once on the water if something is not 100% like we like, it's a question of tuning with small changes in the loft. So, we end up even testing 7 sails in one session, driving to the loft, changing them, and later testing them out already in the afternoon session or next morning latest. The water is sweet, there is no sand, so it makes it easy to put the sail straight away under the sawing machines.
We develop gear every day. I personally test also all the sizes of each sail line. I'm the one that takes in all the feedback of the riders, clients, and puts them into the new changes of the sail to the millimetre. If I would not be testing myself to understand the needs, the language of who gives the feedback, the work would be more like trial and error, and it would take double the time to finish, and not with this success.You need to windsurf to understand where to put your hands in sail design. If the level of the designer is higher in windsurfing skills, it's all much easier.
It's a bit like a cook who would not taste his food and not only. Yesterday I was in the office and just before noon I saw wind building up for the afternoon breeze. In the van foil equipment, and fin equipment to test. Both priorities. It meant from 1pm to- 3pm fin equipment testing and from 4pm to 6pm foil equipment testing. It's nonstop.
TWH:- Your team is very important to you, the Black Team. Racing is starting again, and they are on the water in competition mode, how does this help you develop the sails?
ANDREA:- The team is putting the stamp on the development done on the products. Having a good team on board already proves the quality of the products. With our products we have won many world titles in all disciplines, and often without just paying the best rider on the market, but selecting the one that we saw with most potential to win next.
For us is the team is extremely important. We love our team now. Each one of them is focusing on the sail model they use in competition and is their baby. They are hardworking people, they are smiling, they love what they do, and they like to be part of our program. It's not easy to be part of the team as I'm personally in contact with them all the time. I lived and still live their life. I know what they should be doing, and they know I have I expectation from them. I'm on them all the time, but they know it's also giving them a lot of advantages. This is why it's not a team, but it's the Point-7 Black Team. I listen to them and do the changes to the sails. I try them out myself to see how the change feels, and later I send it to them, or we test it together so that we can share the results for the next step. If we do new protos, I do them double, so we keep in the company one set for testing and, the other goes to the rider again for sharing the development.
It's not easy to find riders who are into testing products. Many just want gear, and then their ego is to fully focus on training to obtain results. Everyone want to be part of the development team as it sounds cool, but it's a lot of work, it's rigging, de-rigging, less time on the water training, in and out of the water. Thinking, finding solutions. It's not about this is good and this bad. Also filtering the feedback from the team is important.
You need to know the conditions where the riders are sailing, how strong the rider is, the boards he uses, how tired he can be on a day he is testing, who he was sailing with on that day. You need to know the rider well, and by having this you can even have better feedback.
The team brings the brand image around the world, and a good selection is very important.
TWH:- P-7 is actually a very small company with dedicated people, all very good at what they do. Plus, as a bonus they are very good windsurfers (this may be an understatement). Tell us a little about your team.
ANDREA:- Very small company yes, because we are all close to each other in terms of mind set and focus. We are a big company because we have an amazing team and lots of people around us that makes it even greater. Each person in our team is an active windsurfer, but their priority has become Point-7. This is a very important combination and sequence. Most of us in Point-7 are either driven by having been pro-athletes in the sport and keeping this competition mind set also in the business, and others have high education and work experience in the role they are now representing in Point-7.
Our team is a good balance between dreamers, hard numbers, creative spirit, business spirit, challenge and expressing our way of lifestyle through the products.We all enjoy what we do, we are all great friends, and we all respect each other in what our role is.
It's at the same time a family company, where my father is the president, my sister is taking care of the financial part of the brand, and this makes the core very strong. We have an amazing team for sales with Dirk and Marco who give outstanding support to our dealers and online network for the expansion of the brand. Our office is driven by Francesco who is our primary reference for all of us, Carlo Alberto 'Pizza' is super busy keeping the logistics going. Our design team with Irene, Cristiano, Enzo, Suranga, Tommy is amazing in following all our ideas and projects. The company is always full power, every day and there are so many other people involved that give us support in the different projects that it would be so hard to name them all. Our distributors, our suppliers, our windsurfing centre, our Blacksheep, 'thewavehobbit', our clients are all part of the family and success of our brand.
TWH:- What is going through many people's minds is, Foil or windsurf? For me they both have their plus sides BUT can never be compared. Racing a Div. 2 board in no wind is so much better than foiling. (Funny I do have a racing background, even competed in waves.) Is foiling part of windsurfing or a different sport?
ANDREA:- This is a hard question. I had difficulty to accept at first foiling as a pure core windsurfer, but I did see the opportunity to finally windsurf in many spots or days with low winds thanks to foil. Also, during events, instead of no action for the media, foiling will bring more coverage to fill in the promotion of our sport. I had to learn to foil to be able to develop with our team the foil range. I tried to develop at first without foiling, but I saw how much longer it was taking… it was not going to work. So, I jumped on it, and I started appreciating the feeling. I would still go fin, rather than foiling, as soon as it's windy enough for fin, as I like the extra energy that it needs, but in the low wind days I enjoy it a lot. I'm doing from freeriding, to slalom, to course racing on the foil for testing and they can all be fun. They are also different from one another. Just as in normal fin windsurfing.
The development was great fun this year as all it was new, and to see how much different a foil sail needs to be from a normal fin sail, it was just amazing. Exactly the opposite. So, if the development is so different between a foil or fin sail, yes, I think it's just a kind of a different sport.
To have an athlete to be good in both in the future it will be a lot of work, and on a full foil race, there will be the chance that the winners will be those who only foil. Same for a full fin event, those who will focus mainly on a fin will be those who can do better. The racing format in the future will be interesting to watch. Unfortunately, since foil exists, we had very little racing due to the pandemics. I think everyone should have a foil in the car. Does not take much space and can be fun especially in summer days. We are presenting soon our foil range that has been designed and powered together with F4 foils. We wanted to be sure to have a good partner for our foil product and with F4 we are really honoured to have surely the best now.
TWH:- We go into the 2021 year full of hope, but we are working on 2022 and beyond
Andrea, we are finishing the development of the 2022 racing series, but the rest of the range is done. We need to be so much ahead with development as production, shipments are having long timing, so we need to sell 2021, have 2022 ready, and already thinking of 2023!
Russell is a pleasure to be connected with you and be a friend, hope to see you soon in Lanzarote!