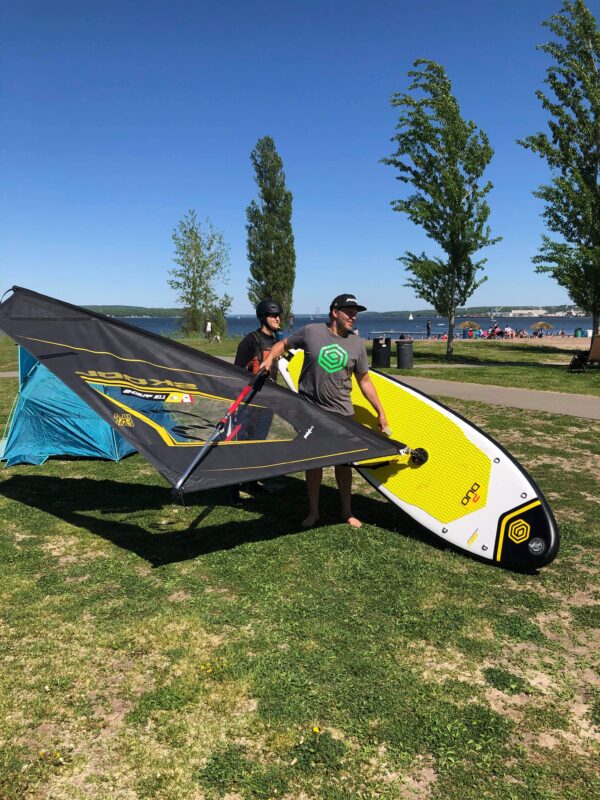 WINDSURF 911-CANADA
A mobile school from our Point-7 Distributor in Canada to learn windsurfing is what can be very practical not to get stuck in one place without wind.
Powered by Guillaume Ruelland who has been to El Yaque in 1996 as his first experience in teaching windsurfing. Later in a Mistral Club in Karpathos and Tarifa for 3 years. Since 2004 he moved to Montreal and Quebec City since 2004. A 25 years' experience of teaching and managing windsurf centre that all brings benefits to the service he can offer his clients.
Tell us about when the centre first opened and the evolution during these years? Windsurf911 centre is in operation since 2008 in Quebec City.
Why would a windsurfing client find your mobile school service unique? It's an unlimited rental for the summer. Kind of VIP service. 650$ for a complete rig including 3h of clinic. If the client wants to buy the rig, we will refund him a quote over the purchase. So, it's a rent-to-buy service. It is a way to make people try point7 gear and good way to put people on the water in a more friendly way. I have client from north Quebec to Toronto so it's a +- 15 million population target. I meet people on their home spot and rig the gear perfectly give them the 3h clinics and wish them good summer!!
How in advance do you let people know where you are, or how does it work, do they have to book? I have people book in October for the next summer and like that they book all winter the specific sail they want. It's mainly beginner or intermediate riders but I'm starting to have more experienced sailors. I provide carbon boom and extension on wave sails for the experienced sailors. It's really VIP high quality top 2020-2021 gear.
If there would be no wind, do you provide other activities? I am really focusing on windsurfing it's enough for now!!
Example of our typical clients:
French visitors who come to work in Montreal but do not have their gear with them.
Beginners who want to try and learn the sport.
Advanced sailor what to try Point-7 gear.
Intermediate sailors who want to upgrade their level.
Name of the Centre: windsurf911
Country: Canada
Spot: various spot
Type: mobile centre
Standard wind conditions: north eastern strong or south-western thermal
Opening months: April to November
Opening hours: depending on the tides and wind!!!
Closest airport: Quebec YQB Montreal YUL and Toronto
Type of accommodation available in the area: All types and possible camper rentals
Website: is coming
Facebook: windsurf911
Instagram: windsurf911
Quebec area: St Lawrence River
Toronto area: Big Great Lakes