Tell us about your background. How you started windsurfing and how did you get to the racing scene
I started windsurfing when I was 8-year-old in Torbole, Lago di Garda. My parents have taken their first lessons that spring in Lithuania and wanted to use the summer holiday to improve. We came to garda and spent two weeks camping there and since both of my parents wanted to be on the water windsurfing, they put me into a child windsurfing school too. Back in Lithuania my dad started doing some intermediate level competitions on the weekend and I was always there windsurfing somewhere nearby until an organiser of the competition spotted me and told my mother that I should join too. So, I started racing against 20–40-year-olds in the beginner class and moved through classes onto Formula Windsurfing by the time I was 14/15, and with FW I started doing international competitions.
Suddenly you were on the PWA Tour and quickly famous in the windsurfing scene. We have seen you very active in your blogs and you seem to have a good number of followers. What do you think it's important now for a pro rider to be valuable for a sponsor?
Hahaha – I wouldn't call myself famous 😀 – I just love competing and I also enjoy sharing my story online. I hope that it helps some young sailors to understand how the path of a professional windsurfer looks, and that it helps some recreational windsurfers to improve their skills. After all, I hope that my videos are a good source of entertainment.
I think the value of a professional athlete in any sport to a brand is the same and has not changed much over the past few decades. You as an athlete must help the company reach their target customers and influence them to buy the products. One can describe this exchange in many ways and be blunt about, but this is the fact. The difference from 20 years ago to now is that you have much more different ways on how you can achieve it. So if your job as an athlete is to reach as many people as possible and to show them and prove them that the product that you are using is great – then let's figure out the possible ways to do it: doing well in competitions, featuring in magazines/newspapers/TV/radio, running windsurfing clinics/test events, creating content, sharing the content through a wide range of mediums (written, videos, photos, podcasts) and wide range of platforms (FB, Instagram, Youtube, medium, Spotify, snapchat, apple podcast, tiktok and etc..)
You are 2m tall. Where do you feel this size bring you advantages in racing and in which conditions?
I think being tall helps a lot in light to medium conditions on any gear in any windsurfing class. I have more leverage and I can generate more power out of the equipment than a guy who is the same weight, but let's say 15cm shorter. More power allows you to generate more speed, or angle if you are doing course race. However, that gets reversed (especially on foil) when the wind gets stronger. You still generate more power, but now the power is plenty, and the issue becomes control. So as a tall guy you need to work a lot on your technique, but also pure strength and stability to be able to handle strong wind conditions.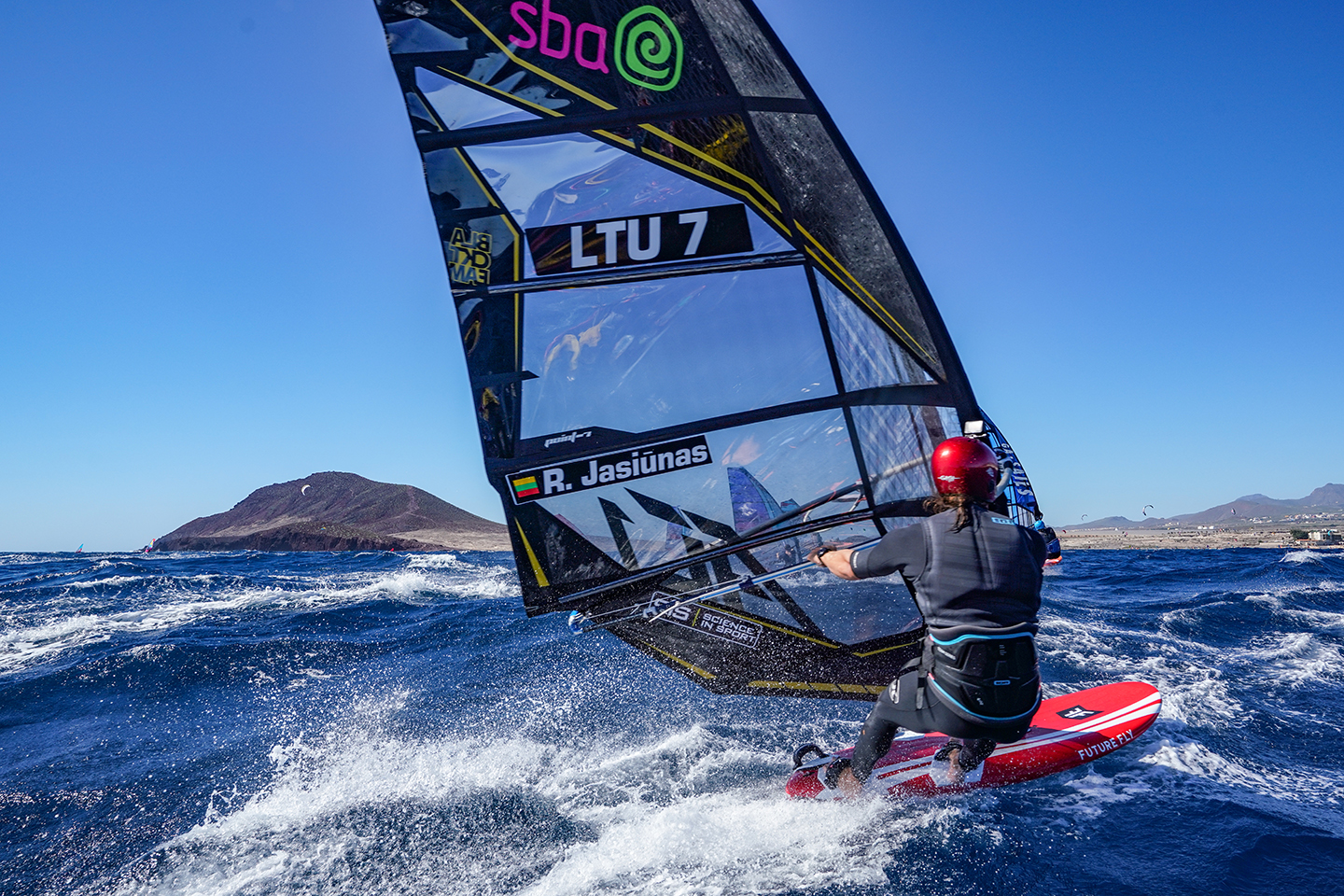 You have been in Tenerife whole winter training. Till now there were no events to prove foil against fin in light wind, but from your experience, how do you see the mixing of the 2 modes. Will there be fin and foil in the same heats? Or will riders choose the same gear to play it safer. Will the judges force to use the same equipment?
I am certain that there will be fins and foils in the same heat as not only the guys' preferences for foil and fin will differ, but also their level of skill on the foil and finally the strategy for the heat. I don't think the judge should decide if we need to go on foil or fin as that might force an athlete who is not confident on a foil to go on a foil and cause danger to others, or it might push a guy like Nico Goyard to go on fin when he would surely be faster around the course on the foil. So, I think leaving it for the rider's choice is the best option.
Do you enjoy slalom racing more with the foil or with the fin? What are the different feelings and difficulties?
I love both! With foil you are going a lot smoother and it requires less physical effort, however it can feel more on the edge (especially in around 15-20 knots). While on fin it will be physically harder, but you are for sure less likely to crash on a straight. On a strategy level the foil usually gives you more options as you can go upwind more easily as well as escape dirty air faster – all of which result in more opportunities for overtaking.
There is formula foil, slalom foil, IQ. What do you think will be the real future of foiling? For whom would you advice the different equipment?
I think all 3 foiling classes can co-exist at the same time. PWA Slalom Foil is for sure the most high-performance class with highest speeds and most up to date equipment – this is the class for professional athletes who are ready to push the gear and themselves to the limit. IQ Foil is a great allrounder and a great set of kit for a youngster who wants to race in windsurfing but is not sure which path to take yet – you can do it all on it (you won't be best neither in Slalom nor course race – but you can do it). For sure IQ Foil is great for young extremely fit athletes who want a good level of performance out of the gear and want to go down the Olympic pathway. Finally, Formula Foil – I think this class is most accessible to recreational sailors who want to start going early and enjoy racing in lakes or calmer coastal waters. Due to the ability to take bigger sails and wings you can get planning earlier and have a high level of performance without putting in as much effort as on IQ Foil (where you need to pump all the time). Also, it is less technically challenging than Slalom Foil as you use bigger wings and generally go slower – so it is less risky in terms of crashes.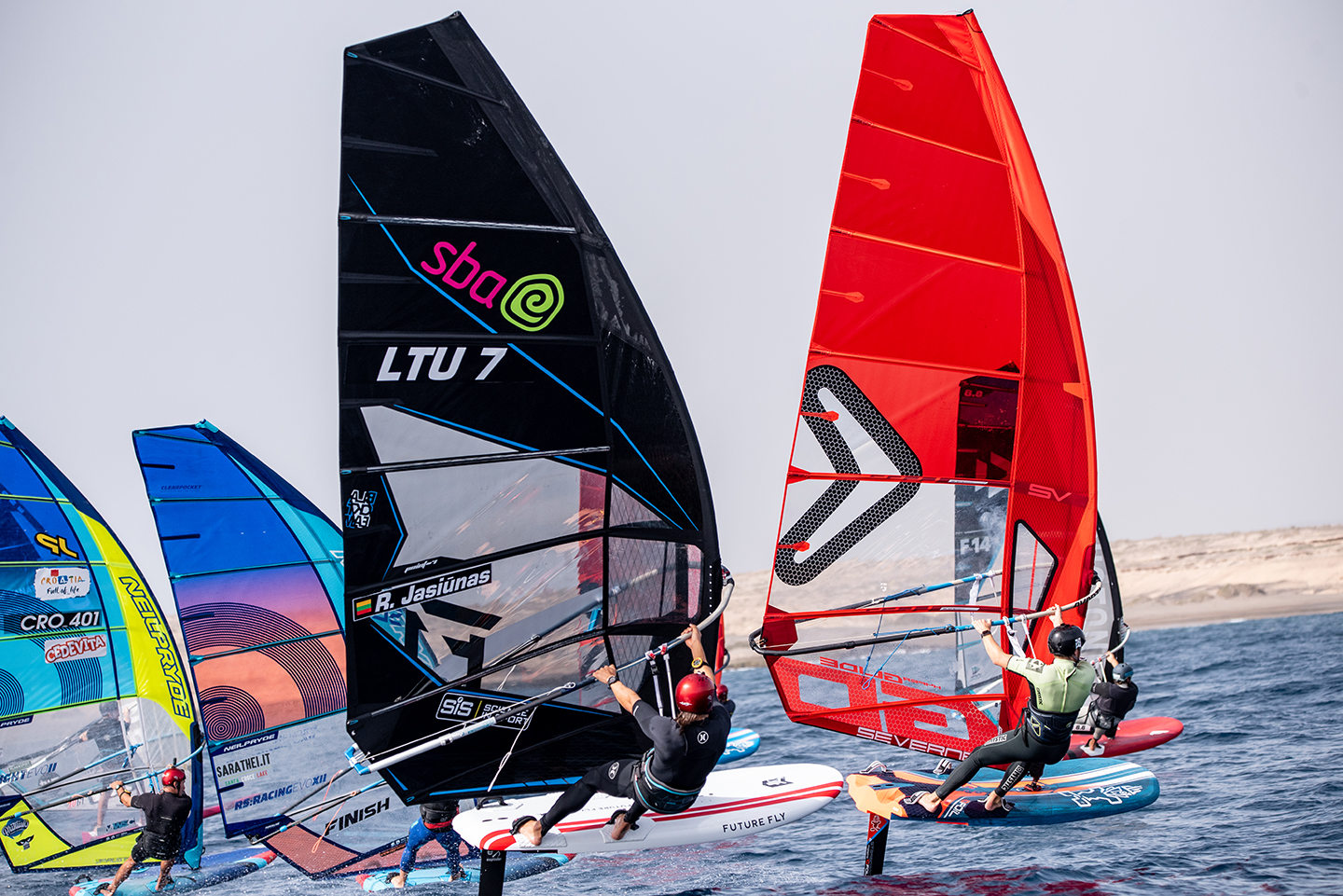 What has brought you on the Point-7 Black Team?
Great gear, fantastic team, and a lot of support from the brand – which is really important to me.
What are your future plans after Tenerife? How do you see the racing calendar for PWA, and the other tours? First event?
I plan to go back to Lithuania in April, by then the lakes should be liquid again and I can continue training there. Tenerife has full focus on Slalom and in Lithuania we predominantly train course racing – so it will be nice to remember that. I plan to do the full PWA tour and IQ Foil Europeans and Worlds – that is the priority. If it works out well, I would like to do IFCA and Formula Foil Championships too.
What are your goals for this year events?
It is hard to quantify the goals this year for PWA especially as we had no events last year and no-one knows how others have been training over this time, however as a minimum I would like to be in TOP 30 PWA ranking. But to be completely honest, I don't focus too much on that – my main goal is to put together a solid performance on heat-by-heat basis. So, what I am thinking about is how can I get a good-to-perfect start in every heat, how can I build a great strategy for every heat, how can I tune my gear so that I am comfortable on it in every condition, how can I do a great gybe in every heat… and so on. Even now I am focussing on small aspects that make up a single heat and I am pretty sure that if I can deliver on these micro-goals inside a heat (and every heat) then at the end of the year the result will be a lot better than I could predict now 😉
Gallery