GET YOUR GEAR READY!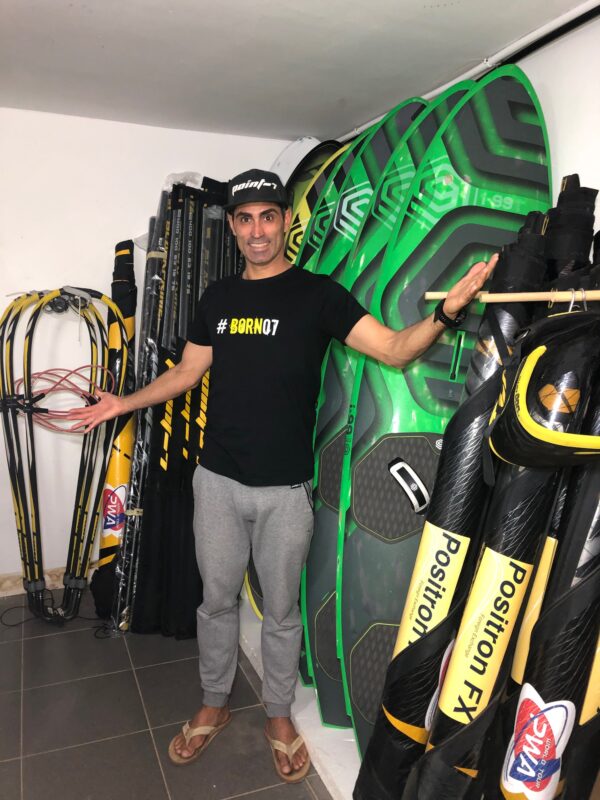 As most of us are stuck, or forced, at home due to the Covid-19, have goon through many things. Old photos, cleaning every corner of your house, emptied cellars from old stuff, and how many of us already have washed our vans, or checked our windsurfing equipment?
We are going to be off the water for some weeks, except some lucky once, so let take this time to get ready to have everything functioning before our next session. You need to be ready and organized before going to the beach, knowing that the only thing you need to worry about, is to be the first on the water in less time as possible, after meeting friends again, probably at a distance, and enjoying that day fully, and not running around looking for a missing part between friends. We have to keep distance! 😊
To do this, we need to check all our gear before going on the water again. Some of you might have received new gear and never had the chance to try it yet. Use this time, if you have some Point-7 gear, new or old, you can also send us some photos of how you rig it and we can help you set it up.
Just write to us on [email protected].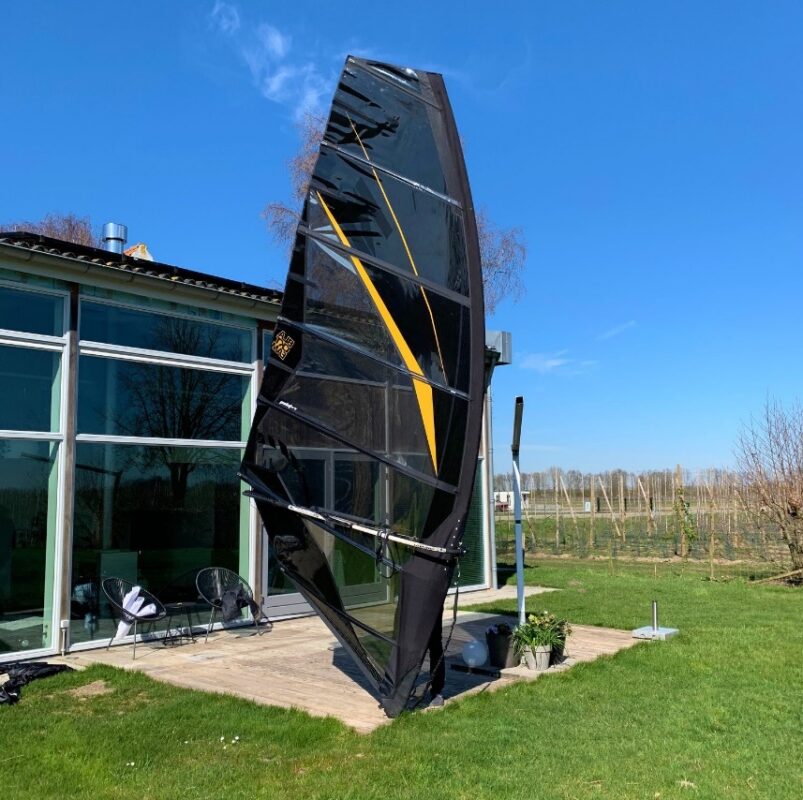 Once you have no doubts anymore about the trim of your gear, nor how to rig it, nor having missing parts. Yes, if you see stuff in your bags that you never use, sell it, throw it or give it to a friend who might need it. Don't bring with you stuff that you will never use. It's just confusion. Have spares, but of real things that you need.
If you know that you are missing a screw, or a washer, or that you need to borrow anything before you go to the freedom day, you are already going to be sure that you are going to enjoy it less: while you are driving to the spot you keep thinking also of that small screw that your missing, hoping that maybe the shop is open or has it. You should go to the beach knowing that between you are off the car and in the water, it has to take less than 10-15minutes.
How many of you are thinking like that today?
At home:
Do you have a book where you write down all your setting? And all you need? The trim and positioning of all the settings? Get one and make a check list of things you also need to bring to you, if you don't have a trailer or van dedicated to windsurfing. You will not be the only one who will get to the beach having forgotten masts or fins at home.
It has happened even to the best riders in the Black Team!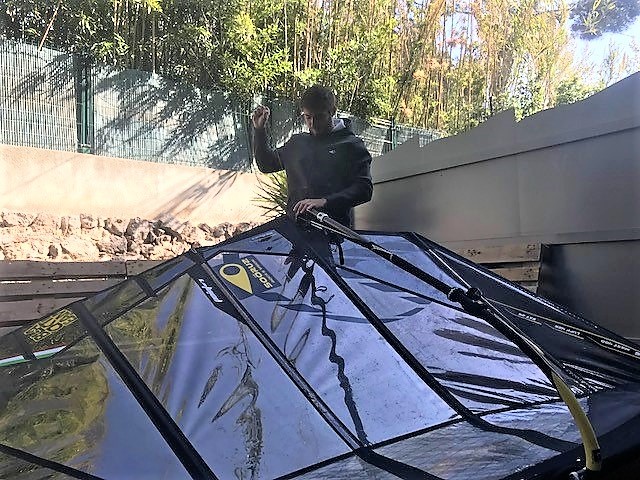 1. Do we have for each rig its booms or extensions, or all components needed? Do we have all the fins for the board? Do I need to juggle the parts from one rig to the other because I don't have enough booms or extension? If you don't, it can be a problem if you don't mark where the ring of the extension goes on the different sails, or the clip of the boom. It's good to write down on the sail or on the extension or on your booklet. Not always your person setting fits with the specs written on the gear. Go through each component.
2. Sail: Are the battens all good. Are there any holes. Is there any other part missing? Did you mark on the sail how much downhaul do I need according to what I like? Should I get them repaired? Could it be a good time to sell it and think of something new?
3. Mast: Do I have each mast for the sail. Is it clean also on the very inside parts?
4. Boom: Are the harness lines in the right position? Did I mark the position on the boom? Are the outhauls marked to be always in the right position? Are the rope cut to size so that it's always the same or long and hanging? How is the rope on the boom head? Do I know how high to put this boom on the sail I will use? Did I ever measure it?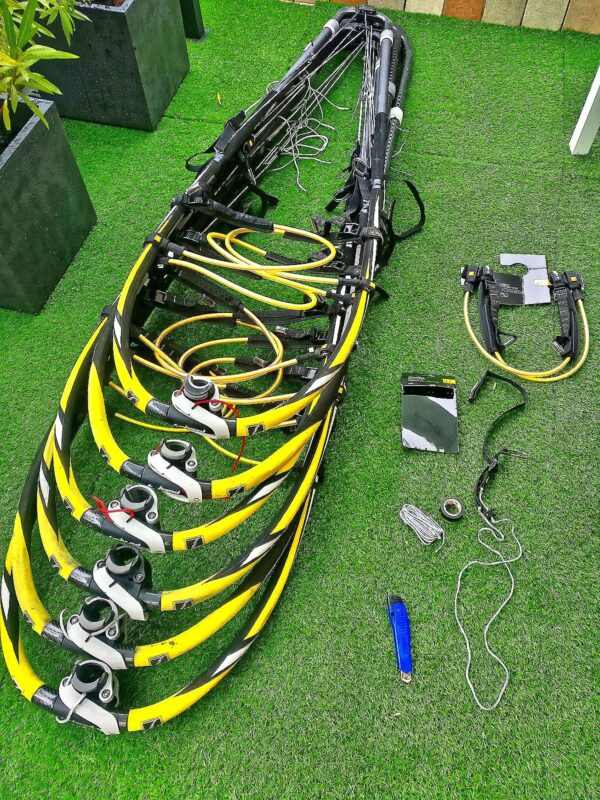 5. Extension: Is the rope good? Do I know at which hole do I put the extension for the sail? Did I maybe write on the sail and in my notes?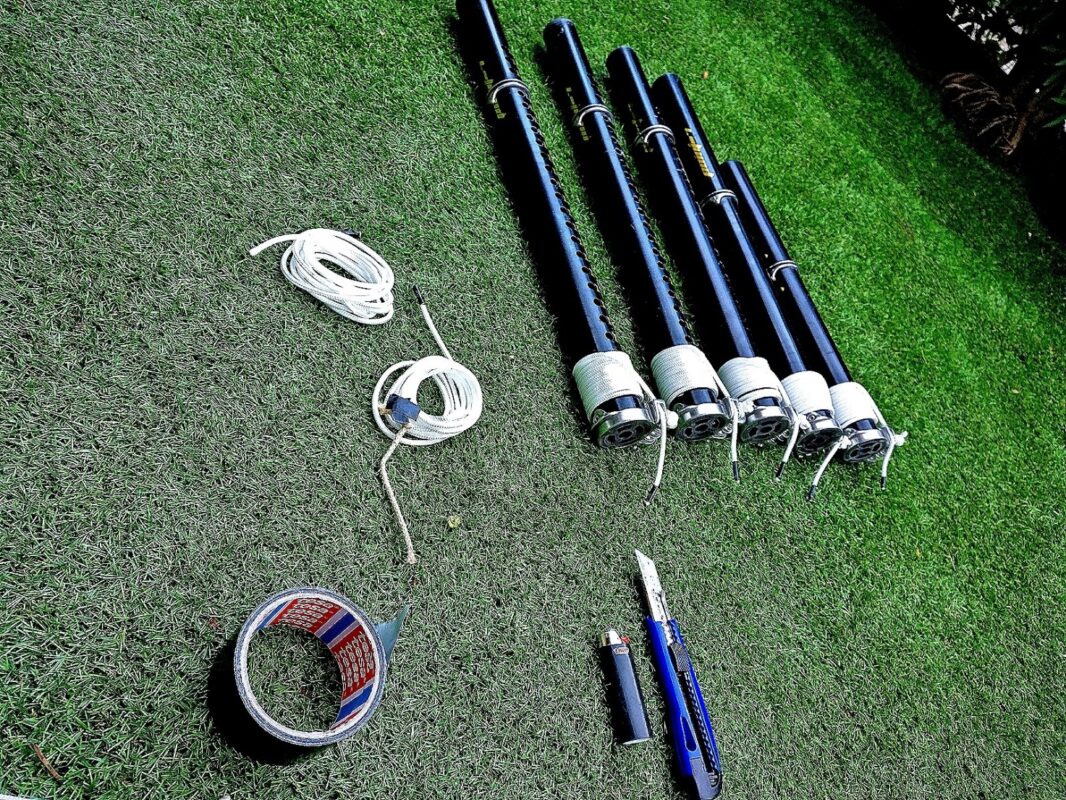 6. Base: How is the tendon? Do I have one for each board. Do all my bases fit all my extensions. Very important in case of emergency.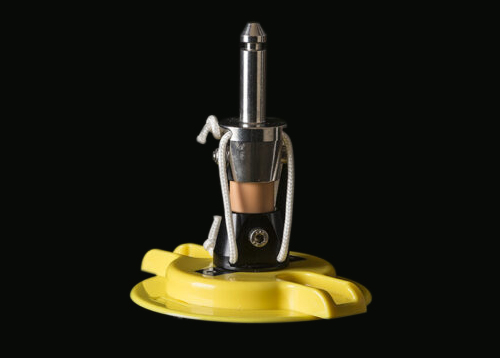 7. Board: Strap sizes. Did I screw them properly, always double check. Size? Anti-skid of the board. Holes?
8. Fins: Do I have all the screws. Do they fit properly in the box? Do I have all the fins I need?
9. Spares: What type of spares do I need? Battens, board repair, Tape to fix sails, ropes, harness lines, anything else?
10. Tools: Do I have all the tools I need? Saw, Screw drivers, batten tensioner, plyers, scissors, lighter…. or maybe with a good Leatherman I can do all?
If you have done all this before going to the beach, you are ready with the first step.
A. At the Beach.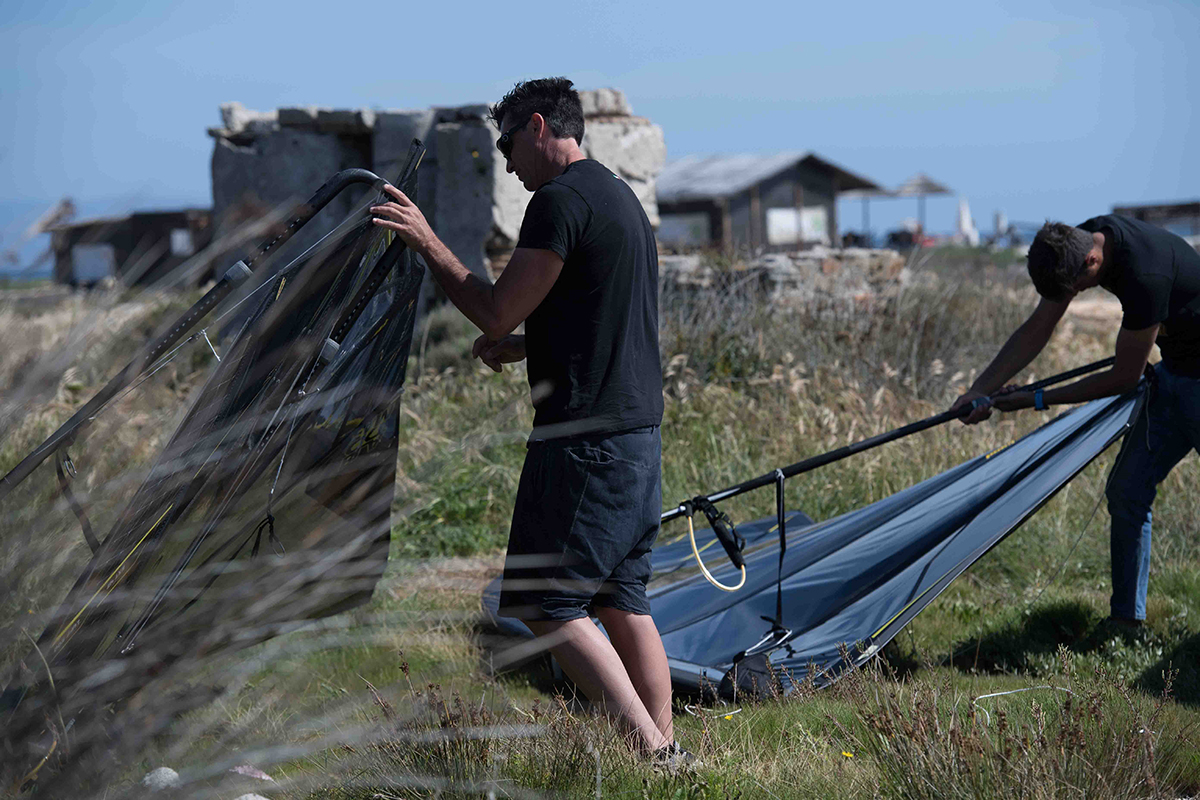 1. Find a good spot to rig the gear so you don't scratch it. If you have a nice mat or sail rig bag if you can't find a smooth surface that can help keep your equipment new.
2. Take out your board first, so that when you finish rigging the sail you can anchor it to the board.

3. If you like to put some stickers on the sails, don't do it on the beach. Do it at home!

4. Talk to the locals to learn about the spot if you are in a new place. If it's cold, try to get on the water as soon as you arrive, don't waste time hanging out on the beach getting cold. Do some warmup exercises before entering the water.

5. Don't waste time searching for a place where to hide your car keys. Everyone knows most of the 'secret spot'. Get those surfing key locks or padlocks.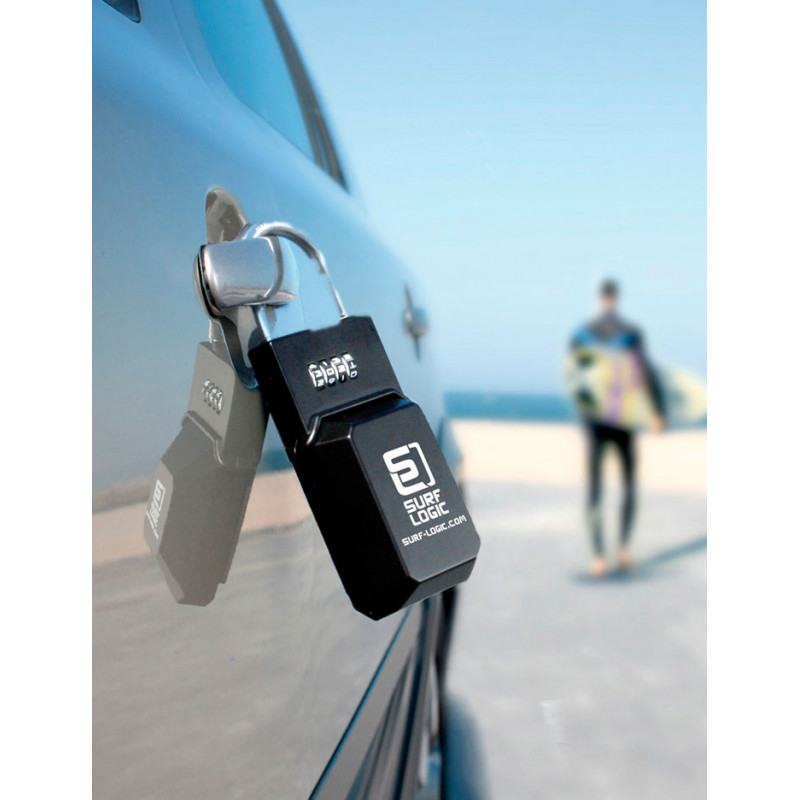 6. If it's the first session of the year, do few runs on the gear and get out of the water after 15 minutes. Your muscles need a small break and go back again. Don't exaggerate. You might feel good at that moment, but it's not going to feel good in the evening. If you do between one or two hours nonstop, it's already a lot!

7. Bring food easy to digest in case you start feeling tired, even energy gels or other type of fast energy, and drink lots. Especially when is cold, you might feel less need, but force it! Not too much beer though 😊.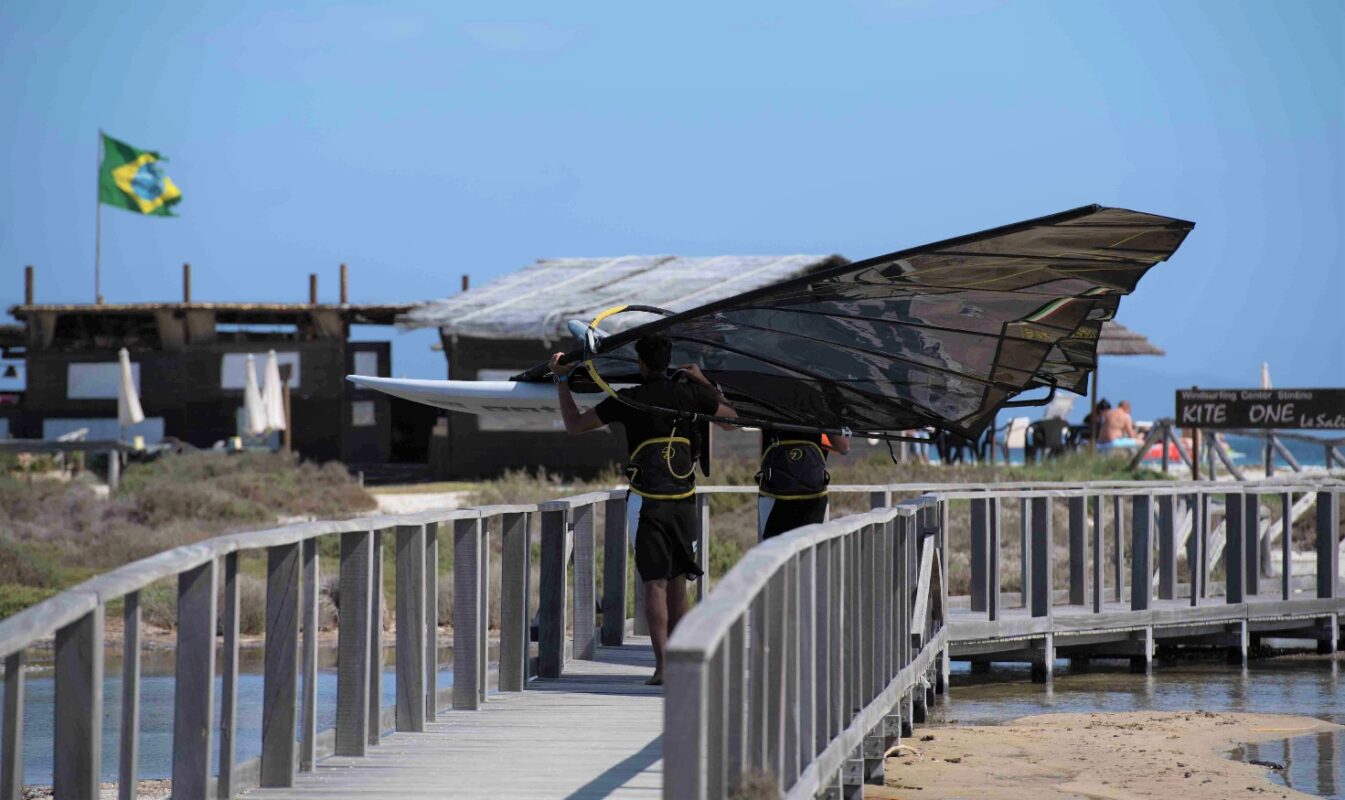 8. Do I have enough warm clothes? Rain, wind, being tired, is always making us feel colder than we think, and colder than just sailing few hours and going home.
9. Is it important to wear shoes at the beach? Energy can be lost too early from humidity and cold feet. Also saves you from getting stupid cuts, just before entering in the water. Will look less Hawaiian but can help save the day. Many pros don't use flip flops but just shoes.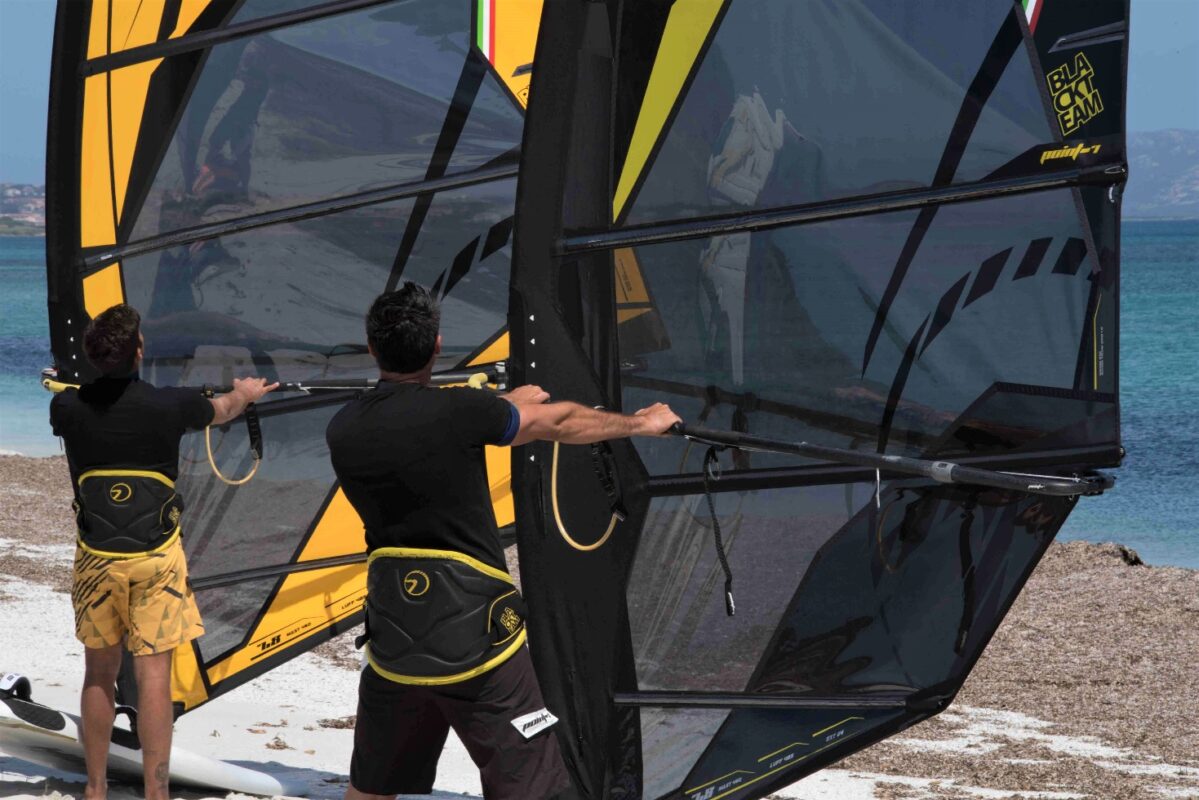 10. Double check everything before entering in the water, as maybe you might have forgotten to close the air valve….or actually? Did you put your harness on, before that everyone is laughing at you while you try to hook on without?
The end of the day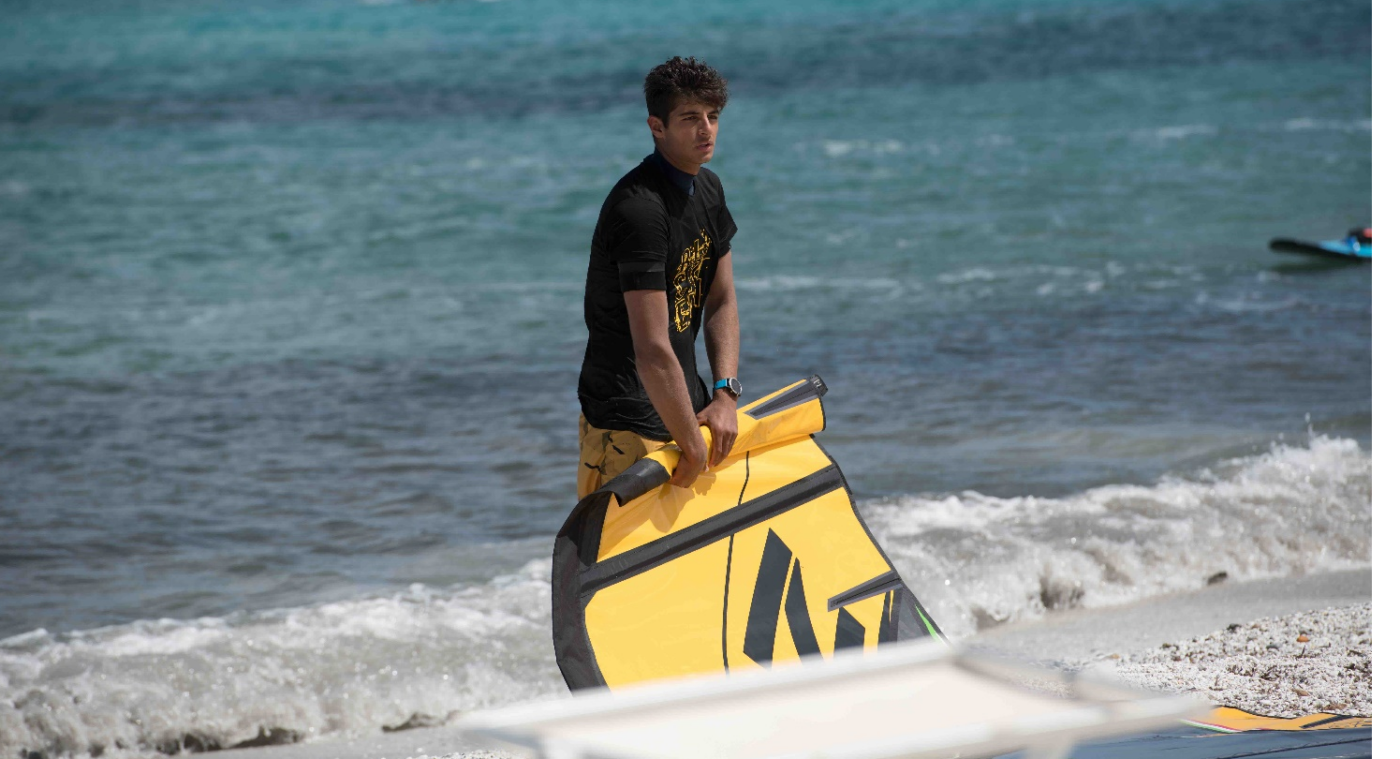 1. Your gear is your fun tools. The better you treat it, the better it will treat your fun.
2. Release all tensions and put it away clean and rinsed. If you leave it on the beach to get changed make sure that is shelter. Rinse it and clean it if possible, otherwise do it at home. Especially if you want use if for some days.
3. Go through the check list of the used gear to see that all is in place and not broken. If broken, repair in the end of the day, and not the next time you go, or the day after. You will forget and spoil your next session.
4. Stretch, relax, eat, drink.
5. Don't forget to show off photos of you windsurfing to your friends on your social media!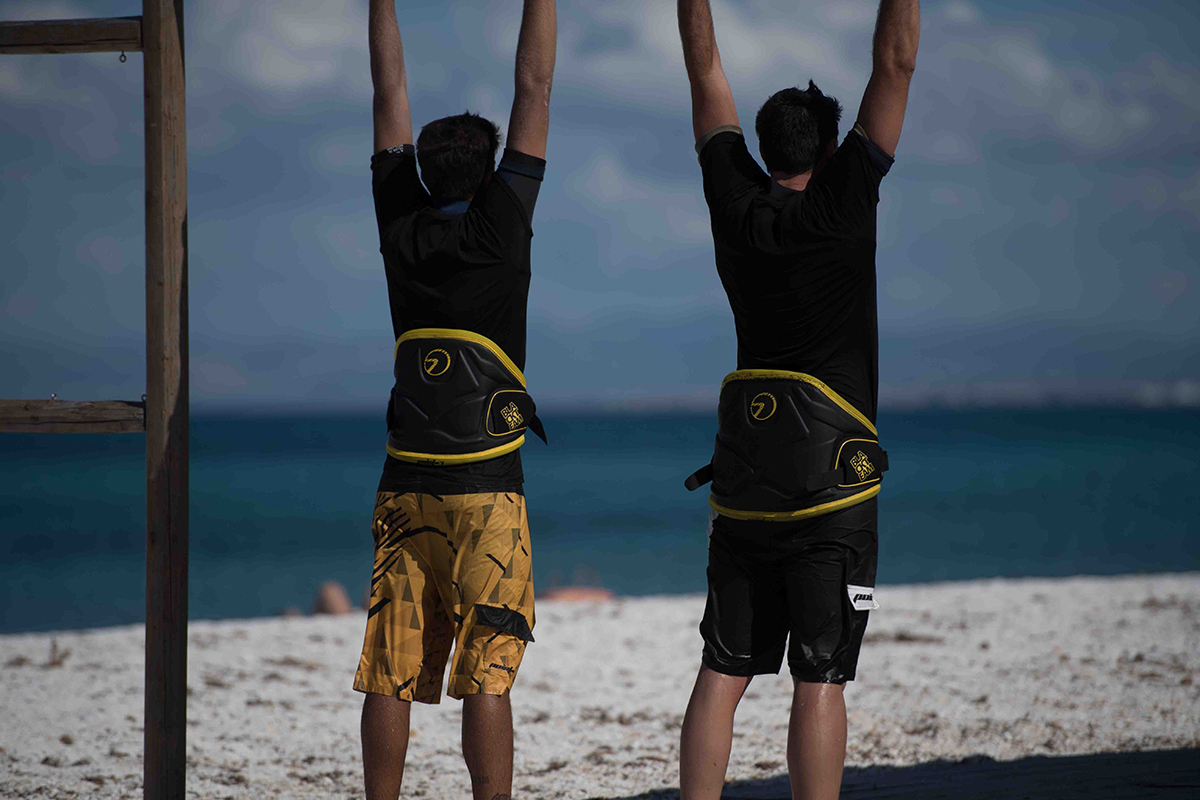 If you are stuck at home in curfew, do not give up and be lazy. Try to eat healthy and do free body workouts you find on the internet. Keep busy, but remember, every sport uses it's own muscles, so be ready to have muscle pain once you are back on the water that first day!