After winning the wave Dutch Championship with Martin Ten Hoeve, less than a month ago, it was now the young PWA sailor to jump on the highest step of the slalom podium of the National Championships.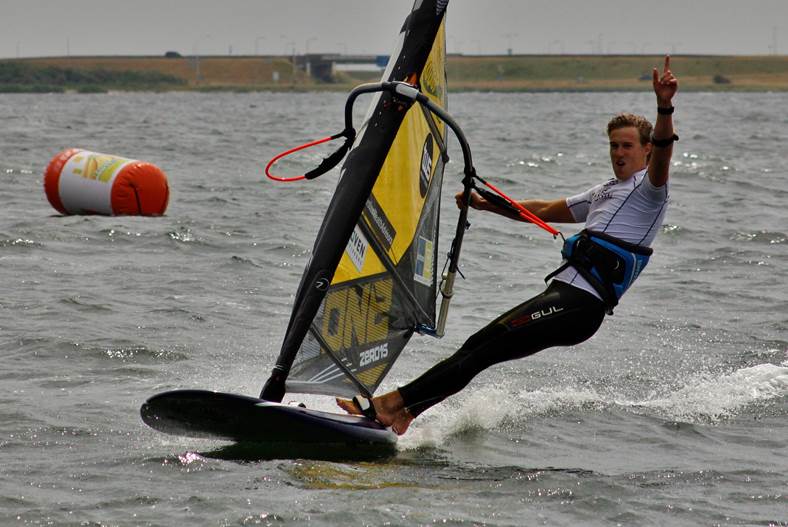 Sunday 21st of June we had enough wind to do the first stop of the Dutch Championships 2015! The Fruit to go Funsporttour, having 4 stops, had enough wind during the second stop to do 3 proper slalom eliminations. The whole day I was racing on my 8.6 AC one and 130L big board, the conditions were changing quite a lot during the day, but I was happy to always feel comfortable on this combination. 
The first elimination I won with a solid lead, I was happy to have the result I was aiming for! During the final of the second elimination I was already done 1 second before the start. Somebody killed my pin-end start and I was arriving last at the mark, after a good jibe I managed to come 4th at the finish. The third elimination was all of nothing, Casper Bouman, Adriaan van Rijsselberghe and me could all take the weekend win. After a good fight with Casper I was happy to be the winner, I crossed the finish line first and took the victory home ! 
I was feeling confident about my speed and stoked to win 8 out of the 9 races I did (all quarters- and semi finals). Happy to put my speed into a win and I hope to keep it till the end of the year. I sadly can't be there on the third stop of the tour as it's the same time as PWA Alacati, but I hope they will have some nice formula races instead of slalom. In October we'll have the last stop, so hopefully some other nice races again!'
Jordy Vonk